Missed any of our podcast blog posts last month? We've got you covered!
We've rounded up each post and episode for easy access and your listening pleasure.
What to Know When You Can't Hire a CFO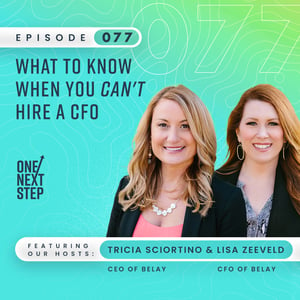 The most important aspect of keeping your business afloat is how you manage your finances. However, not every startup and small business out there can afford to make the leap of hiring a CFO.
In this masterclass episode of One Next Step, Tricia and Lisa dig into the question: While you're still building your business, what tools are essential to make sure you keep your finances in order to scale your company?
Listen here.
Why Most Entrepreneurs Struggle with Managing Money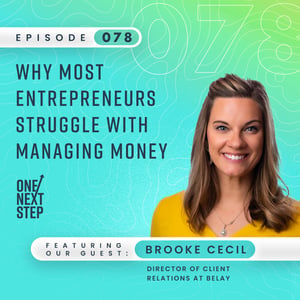 Most entrepreneurs are so busy making money that they aren't very good at managing and understanding it. The solution? A remote bookkeeper.
In this episode of One Next Step, Brooke talked to Lisa about some problems entrepreneurs face when wanting to get started with a bookkeeper, and how to overcome them.
Listen here.
The Unexpected Value of Diversity and Inclusion
In this episode of One Next Step, Beth has a conversation with Tonia Benas, BELAY's Talent Acquisition Recruiter and D&I Committee Co-Chair, and Beth Thompson, BELAY's HR Generalist.
They talk about the importance and value of diversity and inclusion in business and explain BELAY's journey to developing its own D&I Committee.
Listeners will feel motivated and inspired to make their workplace more inclusive, and they'll have the strategies and resources to do just that.
Listen here.
How to Take Time Off As a Business Owner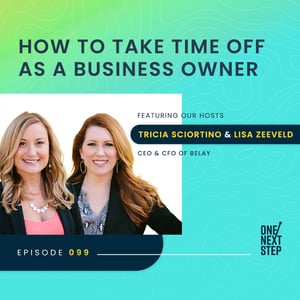 In this episode of One Next Step, Tricia and Lisa talk to busy leaders about the importance of taking time off.
Too many leaders and business owners go so hard that they don't take time for themselves.
Tricia and Lisa will help leaders understand why vacation time is so important, both mentally and physically. And they'll explain some strategies and techniques leaders can use to help them implement healthy processes that allow them to get away.
Listen here.
4 Strategies Top Leaders Use to Be Productive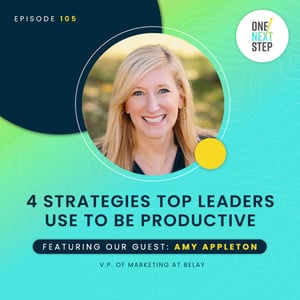 As a leader, you're responsible for setting the tone when it comes to your team's productivity.
But in a culture where many of us confuse busyness for productivity, it can be difficult to find the daily rhythms and structures that help you and your team accomplish your most important tasks.
In this episode of One Next Step, we have a conversation with BELAY's Vice President of Marketing Amy Appleton about four strategies leaders can use to be more productive with their time, physical space, meetings and delegation.
She'll share practical tips for becoming a better delegator, setting up a physical space that's conducive to productivity, structuring meetings for maximum effectiveness, and more.
Listen here.