Missed any of our podcasts last month? We've got you covered!
We've rounded up every podcast for easy access and your listening pleasure.
How to Have Courageous Conversations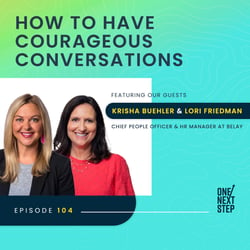 When you work with other people, hard conversations are inevitable.
In this episode, Lisa talks with Krisha Buehler and Lori Friedman from BELAY about the framework they use when having difficult conversations, and they'll talk through the specific approaches they would take in three different workplace scenarios.
This conversation will be full of information that listeners can start implementing in their own conversations right away.

Listen here.
4 Strategies Top Leaders Use to Be Productive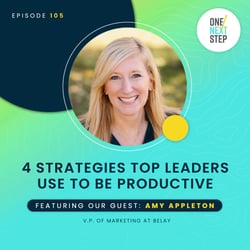 As a leader, you're responsible for setting the tone when it comes to your team's productivity.
But in a culture where many of us confuse busyness for productivity, it can be difficult to find the daily rhythms and structures that help you and your team accomplish your most important tasks.
In this episode, BELAY CFO Lisa Zeeveld talks with VP of Marketing Amy Appleton about four strategies leaders can use to be more productive with their time, physical space, meetings, and delegation.
They share practical tips for becoming a better delegator, setting up a physical space that's conducive to productivity, structuring meetings for maximum effectiveness, and more.
Listen here.
My Pleasure: How A BELAY VA Serves Chick-fil-A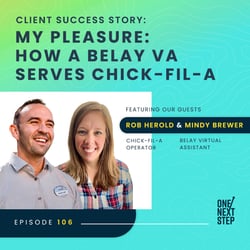 Many leaders wait until they're completely overwhelmed to start delegating, but hiring someone before you reach that point can help you build a more successful working relationship.
In this episode, BELAY CEO Tricia Sciortino talks with Chick-fil-A operator Rob Herold and his BELAY Virtual Assistant, Mindy Brewer. Rob and Mindy share practical insight about the process of onboarding and beginning to delegate to a VA.
They also explain how their partnership frees Rob to focus on the things he does best. Whether you're currently working with a VA or you're considering hiring one but aren't sure if you're ready, this episode is full of valuable information.
Listen here.
How To Get Buy-In To Your Mission, Vision & Values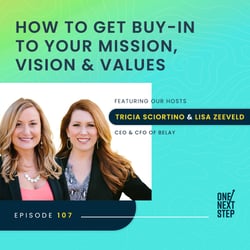 To create a great organizational culture, you first need to establish your mission, vision, and values. But it doesn't stop there. Leaders also need to find ways to consistently communicate those values in both words and actions.
In this episode, BELAY CEO Tricia Sciortino and CFO Lisa Zeeveld break down the process of building culture, from defining your values to integrating those values into your team's daily routines.
Tricia and Lisa also share some creative examples of the ways BELAY has implemented its core values of gratitude, fun and vision.
Listen here.