Missed any of our podcasts last month? We've got you covered!
We've rounded up every podcast for easy access and your listening pleasure.
What We Can Learn from 20,000 Small Businesses with J.R. McNair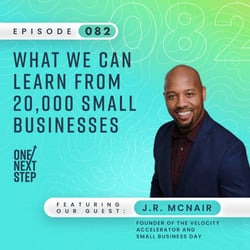 What do new small business owners need to know? What are some challenges and opportunities they are facing right now?
J.R. McNair, a small business consultant who is considered to be one of the nation's foremost experts on startup businesses, joins us to talk about just that. He's also the founder of The Velocity Accelerator and Small Business Day, the nation's largest startup launch event.
He'll chat with us about some trends he's seeing in small businesses and what we can learn from the thousands of small businesses he's worked with.

Listen here.
How A Bookkeeper Can Help You Prepare for Tax Season
Tax season is something that most business owners dread, but it doesn't have to be that way.
Bookkeepers can help you better prepare throughout the year so that when taxes roll around, you don't have to experience feelings of overwhelm.
In this episode, Tricia and Lisa will discuss the ways a bookkeeper can help you prepare your business and alleviate the stress of tax season.
Listen here.
How To Know It's Time To Delegate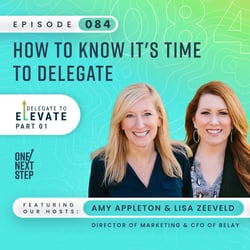 In the first of a two-part episode about delegation, LZ and BELAY's Director of Marketing, Amy Appleton, will share how a leader can know when it's time to start delegating, the obstacles they'll face, and how to develop trust with other team members (i.e. contractors, employees, etc.).
They'll also talk about the myth of the "Superhero ideology," and why "I'm fine" just doesn't always cut it.
Listen here.
How to Delegate Effectively
This is the second of a two-part episode about delegation. Matt Seaton, VP of Operations at BELAY, joins the podcast to discuss the nuts and bolts of delegation.
He and Lisa will talk about how to be effective at delegation, how much you should delegate, the differences between remote and traditional, how to build a culture of delegation, and much more.
Listen here.