Missed any of our podcasts last month? We've got you covered!
We've rounded up every podcast for easy access and your listening pleasure.
How to Demonstrate Gratitude: Celebrating & Rewarding Your Team Remotely
Andy Stanley says, "Unexpressed gratitude feels like ingratitude to the ones for whom you are grateful."
While most of us aren't ungrateful for our teams, it's common for leaders to struggle with remembering to show appreciation for their team when they see them every day.
In this episode, Tricia and LZ are going to help you better communicate your appreciation for your team even if you're working remotely.
What gets rewarded gets repeated in any organization, and remote teams are no different. Now more than ever, team members need to know their hard work is seen and valued.

Listen here.
4 Questions to Create a Competitive Advantage with Sangram Vajre

As business leaders, we can sometimes hear the term "go-to-market" and immediately think "marketing." But that is only part of the equation, and Sangram Vajre is here to tell us why.
In this episode, we are joined for a second time by Sangram Vajre, Co-Founder and Chief Evangelist of Terminus.
He offers his unique take on go-to-market strategies, such as bringing new products and new business to the market. He will tell us about his four questions that help launch products, create ideal customers, and gain a competitive advantage.
He'll explain the basics of a go-to-market strategy and how leaders can effectively begin using it to take their organization to the next level.
Listen here.
Year in Review: Top 7 Next Steps From 2021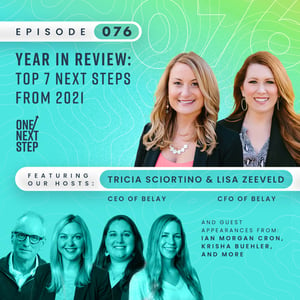 This is a special recap episode highlighting some of our most popular content from the past year.
Excerpts include Tricia and LZ's advice on how to say no and help employees be productive without micromanaging. Tricia and LZ's assistants, Kate and Melissa, join the podcast to discuss best practices for working with an assistant.
Ian Morgan Cron sits down with our hosts to talk about the Enneagram and how it relates to self-awareness and leadership. And Krisha Buehler walks us through building a supportive and available remote work culture.
Listen here.
What to Know When You Can't Hire a CFO

The most important aspect of keeping your business afloat is how you manage your finances. However, not every startup and small business can afford to hire a CFO.
In this masterclass episode, Tricia and LZ will dig into the question: While you're still building your business, what tools are essential to making sure you keep your finances in order to scale your company?
Listen here.