Before becoming a BELAY Virtual Assistant, Kristen Iaffaldano covered a lot of ground in her career — both literally and figuratively. She began her professional journey working as a communications manager for a mid-sized Christian publisher in South Carolina. There, she helped bring the organization into the digital age, by planning, coordinating, and implementing their very first electronic communications program.
She developed the program on a variety of fronts, including e-mail outreach, internal messaging, and web content. She even established the voice and branding for each of the organization's four different imprints, and helped launch their social media presence.
And if that sounds like a lot for one plate, Kristen disagrees. At the same time, she was also writing for a handful of websites as an independent contractor.
It was then that Kristen first got a taste of independent remote work; and she immediately saw its appeal. So, when she heard about BELAY (then eaHelp), she was eager to apply. Her unique experience made Kristen a perfect fit, and five years ago she became one of our very first VAs to serve for-profit organizations.
Freed from the Office
Kristen's new career as an independent contractor also freed her to re-prioritize her personal life. No longer tethered to an office, she was free to move clear out to Iowa to be closer to her family. But, the power of digital communications would soon change Kristen's life in a different way. While in Iowa, she met the love of her life online. So, she packed up for Minnesota to be with him.
About a year and a half ago, she and her husband made yet another move — this time to Georgia — to be closer to his family (and enjoy some warmer weather). They are now settled, and enjoying distinct lack of snow!
Working with BELAY has also given Kristen the freedom to fulfill her spiritual life. With a flexible schedule, she's been able to work nights at a Christian women's shelter and remain active in her church. And while her husband's career requires him to travel frequently, Kristen is usually able to come along and work from the road.
"Working with BELAY has allowed us to lead a very full life," Kristen said. "It's given us the flexibility to pursue different things and focus on our families, which has been a real blessing."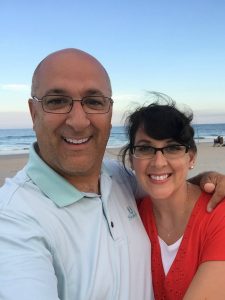 Variety is the Spice of Life
Over the years, Kristen has worked with a number of different clients, but currently serves the pastor of a church plant in Virginia. Her diverse experience allows her to be a "Jill-of-All-Trades" for her client, covering everything from donor outreach, to social media, to onboarding new ministry workers.
"I like the challenge of doing so many different things," said Kristen. "I really enjoy learning new skills. So, if I'm not familiar with something, I love to research it and learn how to implement it. It keeps things interesting!"
And in her time as an independent contractor, Kristen has learned a lot. She's mastered a variety of online tools, taken on podcast editing, and has even gotten pretty good at graphic design. All that experience has equipped her with invaluable new skills to help further advance her career. She's even used her new talents to create a personal website dedicated to Christian hymns. Not only is it spiritually fulfilling, but it also helps her keep her professional skills sharp.
"Working with BELAY has given me flexibility with my time, and control over how I use my strengths to serve others," Kristen said. "Plus, they provide a really great support network whenever you need help."
"You really get the best of both worlds."
Are you looking to work from home like as a Virtual Assistant with BELAY? Visit our Jobs page to fill out an application.