Those of us who work virtually often joke about how, much like news anchors, dress pants are often optional.
But the truth is that you're in control of your schedule – and when pants are mandatory and when they're not.
Even if you're inclined to always wear pants, having the option to not wear them, or makeup, or have your hair fixed is called freedom, and it's glorious.
And according to Sara Gawlak, it's the Third Option fre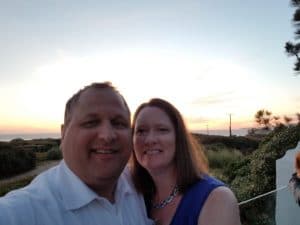 edom that makes her job as a virtual assistant perfect for her family.
"I have the ability to have complete control over my schedule," she explains. "I start work before anyone in the house is up and finish as the kids get ready for bed in order to provide for flexibility mid-day for my family and still be available for my clients."
What called you to explore your Third Option?
"I was in a season of prayer, evaluating what I was called to do next.
"I had been home with my kids for many years, yet felt like something else was next for me – but I didn't want to leave my family. I wanted something I could do that would be in line with the skills that I had but that I could continue to do for my family.
"BELAY was that answer."
So you were called to serve. How do serve your clients while still being available for your family?
"I frequently serve from swim or baseball practices, trampoline parks, or the neighborhood pool. I often joke, 'Have Wi-Fi, can serve.'
"I am here when my kids get up and when they get home – I work my clients around them. We make dinner together – even homemade ice cream – and have summer weeknight movies.
"My clients are top-notch and push me to be better, and I hope I've made at least their processes better."
How long have you contracted with BELAY?
"I've been with BELAY for 15 glorious months! I've had my first client for 14 months and my second for 7 months.
"But had I found this in 2005, I would have been doing this from the very beginning of my 'mommy promotion!'"
'Mommy promotion' – that's perfect! Because that's exactly what it is. So what has the Third Option afforded you that you didn't have or couldn't do before now that you've been 'promoted'?
"I'm able to serve my clients – even when I am not in town.
"This past year, we were able to go to a niece's wedding, an out-of-town baseball tournament, other family-centered events, and a day trip to NYC for one client's company event while still being able to serve my other client."
And how do you spend your time when you're not 'serving'?
"Much of my personal time is driven by my children's activities. I love nothing more than to see them do what they love as I realize my time doing so is limited.
"But when I am not at the pool, the ball fields, or courts, my outlet is sewing. I love to make things. Lately, I've spent time making memory quilts from t-shirts, jerseys and other items.
"I love the puzzle and the trust given to me with these treasures. To see a pile of shirts turn into a keepsake is fantastic!"
As a mother, I know you know better than to play favorites but … what do you love most about your work?
"I love serving my clients. I love that in the partnership of trust that has been formed, I am able to offer advice and direction to make things more efficient for them and their team."
Trust – that's a biggie. How has that evolved since starting your partnership?
"Both of my clients had a difficult time finding a good match for a variety of reasons.
"The need to establish trust was so very important. I believe that by getting to know them and their business, I continue to build more and more trust every day and by doing so, both of my clients have allowed me to assist them in ways that allow them to have more time with their families and to remain more focused on what is most important."
Oh, wow. So you've sort of become their Third Option, affording them more time with their families. Why do you think you've been such a great fit for them?
"I love to work independently. I am a natural self-starter and very goal-oriented.
"So I have been blessed with two clients that set what they feel are lofty goals – and I enjoy meeting those goals. Both of them have been also open-minded about how that might impact hours.
"This has provided for extra service hours first, then adding hours to match the need."
And what makes you excited to get up tomorrow and do it again?
"Both of my clients have included me as a team member – and not just a contractor. I enjoy watching the teams succeed and being a small part of these successes."
Ready to make the switch? If you've ever wondered if working as a contractor with BELAY is right for you, visit our jobs page. Preemptively: You're welcome!