When we at BELAY think about our contractors working The Third Option, Virtual Assistant Robyn Little was next on our list to interview for the "Day In The Life" segment.
A Day In the Virtual Assistant's Life
We asked Robyn what made her choose The Third Option. Her response is absolutely inspiring and is why so many of our contractors choose to contract with BELAY. "It was 2015 - my husband and I had just celebrated our 29th wedding anniversary and we had become empty nesters." Robyn continues, "As with all new phases in life there was excitement, adjustments, and challenges. To alleviate some of the challenges and survive this new season, I knew that I needed to find a Third Option."
"Working virtually has exponentially changed my family dynamics in a positive way. I have the flexibility to travel with my husband (he holds a 100% travel position) and freedom to create daily adventures!"
During Robyn's time with BELAY, she has served her clients from thirty-two different US states, five countries, numerous hospital rooms, and in the middle of the Pacific Ocean while watching a whale migration. Obviously, Robyn has this virtual gig down!
Virtual Relationships
One of the questions that Robyn often gets is if working virtually gets lonely.
VIrtual work can, at times, be isolating. However in Robyn's engagement, she has the privilege of supporting a client where multiple VAs are contracted. She loves the camaraderie and trust between all the VAs and describes it "like we are the nucleus supporting the core business".
She leans in to their knowledge, receives daily encouragement, and feels completely empowered to be a part of the team. This is the sign of a successful virtual relationship.
Robyn also says, "intentional communication, organizational skills and the ability to be flexible" attribute to her success as a VA. She jokingly says that her biggest challenge each day is "keeping track of which time zones my home office is working in that week" because of her flexible and adventurous travel schedule.
"With my past experience, I have learned to listen to others ideas, coaching and visions. It is important to be open minded and stay flexible because the direction will change constantly. I remind myself, that building new processes and procedures is a work in progress so I always find pleasure in the building process." Wonderful advice, Robyn and we couldn't agree more.
BELAY As The Third Option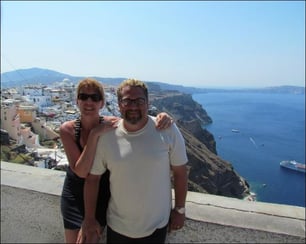 Robyn shared that BELAY has given her the opportunity to meet some amazing, confident, creative individuals throughout the nation.
Other BELAY contractors provide her with different views, diversity, and massive amounts of knowledge from their chosen fields. Her peers are always willing to provide answers to technical or professional advice, technology recommendations for the newest tools or apps, and are there with the encouragements and support that she might need during the day.
And now for our favorite question to ask: What is the one thing about their day that makes them excited to get up tomorrow and do it again?
"Tomorrow will be a new day filled with opportunities to build upon the knowledge I gained today - and improve in the areas where I totally missed the mark!"
BELAY loves her can-do attitude and never settling for the status quo.
---
Your Turn
Have you ever wondering about working as an independent 1099 contractor through BELAY? Robyn says "TRY IT! It IS a game changer and very liberating to call your own shots!"
Visit our jobs to find out more on what a day in the life of a Virtual Assistant looks like. Apply to be a part of the team today!