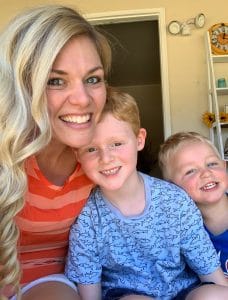 Eight years ago, BELAY virtual assistant Amanda Kelley discovered her passion. After working for two years as the registrar for Pine Cove Christian Camp in Tyler, Texas, Amanda. was promoted to the position of Executive Assistant to the Director of Development. Although her workload practically doubled overnight, she couldn't have been happier.
"That was my first taste of the executive assistant life, and I quickly discovered that I really loved it," said Amanda. "And, not to toot my own horn, but I was also good at it."
Despite enjoying her job immensely, in 2009 Amanda moved to Peru to become a full-time missionary. There, she got involved with a church plant on the outskirts of Lima and began helping local communities in need. In the end, Amanda spent a full five years in Peru before returning to the United States.
When she did, she returned as mommy to a 2-year-old baby boy. With a growing family and increasing responsibilities, Amanda quickly realized she would need to generate some additional income.
"I always wanted to be a stay-at-home mom," Amanda said. "But I also loved helping others as an executive assistant. Before moving to Peru, I had experienced this really awesome job," she explained. "So, I didn't want to go to just any nine to five where I didn't enjoy my work. I also wanted to remain involved in family and community as much as possible."
Amanda began her job search in earnest, but found it difficult to find the kinds of opportunities that would satisfy both her professional and personal goals. So, she put out a plea to friends and family to see if anyone could help point her in the right direction. When a friend told her about BELAY, and the possibility of working as an executive assistant from home, Amanda was excited, but skeptical.
"I didn't really know anything about working remotely," she said. "I'd always had an office job. I know it isn't for everybody, but for me the idea of working from home was a dream. So, when I heard about BELAY, it seemed almost too good to be true."
Ten months later, Amanda says that it is everything she had hoped for and then some.
"Now, I can't really imagine doing anything else."
Amanda currently supports two clients — an entrepreneur and a sports ministry. At least three times per week, she meets with her clients on video chat to discuss their needs for the coming days. Outside of these meetings, she and her clients are usually keeping in touch via e-mail and text message. Her days are mostly occupied with e-mailing, scheduling, event planning, meeting reservations and other administrative tasks.
However, over time, Amanda's working relationship with her clients has expanded to also include new responsibilities and roles. She now takes care of membership invoicing for one client, and has recently undertaken the role of project manager for a client's new hiring and recruitment campaign.
When starting up with a new client, or taking on these new responsibilities, Amanda greatly appreciates the added support of her BELAY Client Success Consultant.
"Having the Client Success Consultant doesn't just feel like having an extra step in the process," Amanda explained. "Taking care of us is like second nature to them. You never feel like they just say, 'here's a client', and then throw you in the deep end. And when I need their help, I never feel like any question is too small."
Despite working remotely, Amanda never feels isolated. In her ten months with BELAY she has built meaningful personal and professional relationships with her colleagues and clients alike. In fact, with one of her clients, their working relationship has even blossomed into a friendship.
"This client lives just over an hour away, so we make a point to meet face-to-face at least once a month. But it actually goes beyond that — over time we've also become friends. He and his wife visit me and vice versa!"
Working at BELAY has allowed Amanda and her family the rare opportunity to fulfill their spiritual, personal, and professional goals all at once. And now, with her second child at four months old, the need for work-life integration has never been greater.
"I wanted to do something that I loved and that I was good at, and still remain a stay-at-home mom. At BELAY, I'm doing that."
Want to become a virtual assistant?
We are looking for you! Apply here.