Meet Crystal Volinchak.
Scratch that.
(Re-)meet Crystal. You actually met her last summer, along with her husband, when we featured them both.
Both are BELAY VAs. Or they both were, anyway.
Because since then, Crystal has moved on. But before you wax sentimental or pine for our old friend, Crystal has pulled a Jefferson and has moved on up.
And that's not to disparage us, obviously. But she now works for Daymond John. The Daymond John.
Oh, you know – Daymond John of FUBU and Shark Tank fame?
Yeah, that Daymond John.
Crystal now works for The Shark Group and has done such a bang-up job for them that she – drumroll, please – has an entire chapter of Daymond's new book, Powershift, dedicated to her.
The chapter in question? Bring Value Without Expecting Anything In Return.
If that doesn't tell you everything you need to know about Crystal, we don't know what will.
Thankfully, we've got a few connections – ahem, BELAY graduate Crystal herself – and were able to sit down and talk to her about her extraordinary journey.
Let's start at the beginning. You're working a normal 9-5. So how'd you go from that to working remotely for BELAY to landing a job with The Shark Group?
"I was working 9-to-5 for Youngstown State University for the Ohio Small Business Development Center.
"I was an assistant there, consulting business owners and entrepreneurs. So I was kind of already immersed in that world.
Oh, wow. Well, that was serendipitous …
"But then, I got pregnant. I had planned out my maternity leave but then my son ended up being delivered six weeks early.
"So it kind of changed some plans for me – and maybe changed me as a person, too. I had been finishing my MBA and was due to graduate literally a week before he was due but since he was early, I wasn't able to finish my last class.
"Then, my husband got laid off.
"I thought that once I had a kid, I was going to want to go back to work and get that adult interaction. But then it was the last thing on Earth I wanted to do; I wanted to stay home and be home with him more.
"While on maternity leave, I had been communicating with my supervisor about my schedule because the plan was for me to come back full-time – working part-time from home and part-time in the office – but a few days before I was supposed to go back to work, she decided I couldn't work from home anymore."
At this point, you likely have no childcare arranged, your husband is reentering the job market, and the fate of your MBA hangs in the balance. Now what?
"I went back part-time while finishing my MBA – and immediately started looking for remote job opportunities – and that's how I landed on BELAY.
"[But] taking a contractor position was super scary for me. Just the uncertainty that someone could cancel their contract at any time with my family is relying on this income – we need both of our incomes to pay our bills. We had just built a house two years prior and then we had a kid, so it was super scary.
"But I contracted with BELAY – and another similar organization – and they said, 'Hey, we have this client that we think would be a great fit for you.'"
That is some epic foreshadowing …
"So, it just so happened that The Shark Group was looking for someone with Infusionsoft experience – and that's how I landed with them.
"It started as a 10-hour weekly contract. Within two weeks, it was 20 hours. Within a month, it was 25 hours.
"Then the marketing manager that I was reporting to and assisting was leaving."
A door opened. And what did you do?
"That was what Daymond called my powershift moment.
"I thought, 'I have my MBA; I'm capable of a lot more.
"So I went to the president of The Shark Group knowing they were in a bind for a marketing manager. And then the next thing I knew, he was buying out my [BELAY] contract."
What has your powershift changed for you?
"While I'm still an independent contractor, they treat me like an employee.
"I got a Christmas bonus. When they're closed for holidays, I'm off on holidays, too. And they bring me out two to four times a year.
"Then I was asked to be in the book – though I don't think I really realized what a big deal was at the time."
So what would be your advice to people who are looking for their powershift opportunity or trying to have courageous conversations at work?
"A lot of powershift is about making that first move and how that is the biggest key to winning a negotiation. That one 'no' I got about working from home opened so many doors for me – it's been unreal.
"Then there's the more practical advice I give people: underpromise and overdeliver.
"So if I'm given a deadline, I'll give myself a couple of days grace period. I always show up to my meetings five minutes early. I always send a weekly recap. I'm always prepared. I never take on more than I could realistically handle. If there's something I don't know, I figure it out on my own.
"I also think it's really important to find clients in an industry that you like. It makes a big difference when you're having to put in all that work."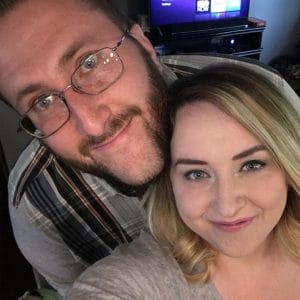 And how do you pour into yourself professionally? What do you do to make sure you continuously bring value?
"I would invest in myself a hundred times over.
I like to read a lot of books, so I have a Jim Edwards copywriting book and just that book alone has helped The Shark Group so much.
"Podcasts are another good free resource if you can find a good one.
A lot of people struggle with imposter syndrome. What would you say to those people who struggle to find the courage to invest in themselves, believe in themselves and take the chances that you've taken?
"It's definitely something I struggle with. I still think, 'I'm in a Daymond John book. Why? What's so special about me?'
"But time and time again, I've proven to myself that clients are seeing value – so there must be something there.
"I saw a study recently that suggested that people working from home actually work eight times harder as you're always trying to make up for the fact you're not there.
"But study after study shows that a happy, engaged employee is a more productive employee."
And that's our inherent value – and it takes us reminding ourselves that we provide value, often above and beyond our in-office counterparts – because we're happy. So what would you say is your personal secret sauce – your magic?
"That everything I know – everything I am able to bring to Daymond – is self-taught. And that comes from resourcefulness and being willing to invest in myself.
You're scrappy …
"Oh yeah. The one thing I think a lot of people in my area say is that successful people who come out of Youngstown – which used to be a really big, booming steel city and is now a very depressed, poor area – have grit. We have a lot of grit – and I think that's great."