Have you enjoyed catching up with our Power Meeting with Daymond John contest winners?
Today, we'll share Jill Hite's update and see what she's implemented from Daymond's suggestions.
Be sure to scroll all the way down to check out the recap videos from her meeting with Daymond, The People's Shark!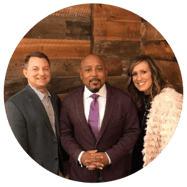 Did you implement any of the tips from Daymond?
The biggest tip he gave us was to stay focused on our online business. We certainly have done that! He also talked about doing a deal the day and we are looking into doing that this spring. We also talked about Facebook ads and the impact that they can have. We spent more money on ads when we got back and really saw a big return on our investment so we will continue to implement this strategy.
Clearly the biggest impact of the meeting was the credibility it gave to our business for this new partnership that could grow our business in a way we couldn't have imagined!
Now that we are a solid 90 days out, have you seen any impact from the things you learned?
It is an opportunity we never could have even imagined! I have to believe that having a meeting with Daymond gave our business credibility as a potential business partner.
Has his advice led to any new concepts or opportunities in your business?
The day after our meeting with Daymond we got a call from Jessie James Decker from the reality show, Eric and Jessie. We have worked with her sister, Sydney for three years. She has been our ambassador and had a capsule favorites collection with us on our website.
Long story short, Jessie had a fashion brand called Kittenish that she owned with a business partner. Things were going south with the business partner and Jessie ask if we would consider buying out the inventory with her and partnering with her to re-brand her website and business.
We have spent the last couple months working with her to do this. We launched her new site March 1st and have set up a warehouse to ship the inventory out. The first few hours we launched, we had more orders than the other partner had ever had in one day. We also helped her create a line of logo wear and are working with one of our manufacturers to design a fall line.
In retrospect, is there anything you wish you had asked him?
Honestly, I don't think there is anything else that I wish I would have asked him.
Have a few extra minutes? Watch Jill's recap video with Daymond John, The People's Shark!
---
Have you read Daymond John's new book -
Rise and Grind
?
It has many great principles for maximizing and making the most of your day. Get a copy today!