As we all dream of toes buried deep in warm, powdery white sand with turquoise waters just feet away lulling us into a blissful trance while the warmth of the sun wraps us like a long, familiar hug, here's our summer reading list should just an opportunity present itself.

The Energy Bus: 10 Rules to Fuel Your Life, Work, and Team with Positive Energy by Jon Gordon
In the mode of other bestselling business fables, The Energy Bus takes readers on an enlightening and inspiring ride that reveals 10 secrets for approaching life and work with the kind of positive, forward-thinking that leads to true accomplishment – at work and at home.
Everyone faces challenges. And every person, organization, company and team will have to overcome negativity and adversity to define themselves and create their success. No one goes through life untested and the answer to these tests is positive energy — the kind of positive energy consisting of vision, trust, optimism, enthusiasm, purpose, and spirit that defines great leaders and their teams.
Drawing upon his experience and work with thousands of leaders, sales professionals, teams, non-profit organizations, schools, and athletes, Gordon infuses this engaging story with keen insights, actionable strategies, and a big dose of positive infectious energy for managers and team leaders or anyone looking to turn negative energy into positive achievement.
The Energy Bus provides a powerful roadmap to overcome common life and work obstacles and bring out the best in yourself and your team. When you get on The Energy Bus, you'll enjoy the ride of your life!
Free to Focus: A Total Productivity System to Achieve More by Doing Less by Michael Hyatt

Get more done and get your life back.
Many professionals work as many as 70 hours a week, leaving little time for rest, exercise, family, and friends. Work is invading their personal life.
The common understanding of productivity has failed these professionals. Most think productivity is just about getting more done at a faster speed. But it's not.
Productivity is about getting the right things done.
New York Times Bestselling author Michael Hyatt has created a total productivity system that's much more than endless box-checking. Proven by over 25,000 professionals, this system helps overwhelmed leaders achieve what matters most so they can succeed at both work and life.
In his latest book, Free to Focus, you'll discover how to ...
Redefine your work so it works for you

Filter your tasks and commitments

Cut out the nonessentials

Eliminate interruptions and distractions

Set boundaries that protect your focus and drive results

Leverage your time and energy for maximum productivity

Build momentum for a lifetime of success
In Free to Focus, you'll learn the 3-step system to achieve more while doing less.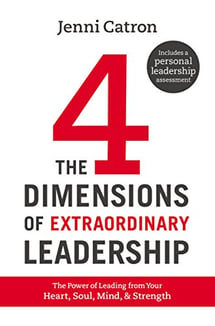 The Four Dimensions of Extraordinary Leadership: The Power of Leading from Your Heart, Soul, Mind, and Strength by Jenni Catron
You have the capacity to become an extraordinary leader — if you are willing to embrace a deeper definition of leadership and take action to apply it.
In The 4 Dimensions of Extraordinary Leadership, Jenni Catron, executive church leader and author of Clout, reveals the secrets to standout leadership found in the Great Commandment: "Love the Lord your God with all your heart and with all your soul and with all your mind and with all your strength."
Weaving a winsome narrative filled with inspiring real-life stories, hard-won wisdom, and practical applications, Catron unpacks four essential aspects of growing more influential: your heart for relational leadership, your soul for spiritual leadership, your mind for managerial leadership, and your strength for visionary leadership.
Leadership isn't easy, but it is possible to move from ordinary to extraordinary. Jenni Catron shows the way.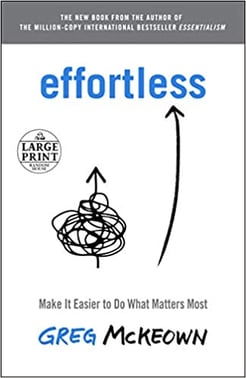 Effortless: Make It Easier to Do What Matters Most by Greg McKeown
Do you ever feel like:
You're teetering right on the edge of burnout?

You want to make a higher contribution, but lack the energy?

You're running faster but not moving closer to your goals?

Everything is so much harder than it used to be?
As high achievers, we've been conditioned to believe that the path to success is paved with relentless work. That if we want to overachieve, we have to overexert, overthink, and overdo. That if we aren't perpetually exhausted, we're not doing enough.
But lately, working hard is more exhausting than ever. And the more depleted we get, the more effort it takes to make progress. Stuck in an endless loop of Zoom, eat, sleep, repeat, we're often working twice as hard to achieve half as much.
Getting ahead doesn't have to be as hard as we make it. No matter what challenges or obstacles we face, there is a better way: instead of pushing ourselves harder, we can find an easier path.
Effortless offers actionable advice for making the most essential activities the easiest ones, so you can achieve the results you want, without burning out.
Effortless teaches you how to:
Turn tedious tasks into enjoyable rituals

Prevent frustration by solving problems before they arise

Set a sustainable pace instead of powering through

Make one-time choices that eliminate many future decisions

Simplify your processes by removing unnecessary steps

Make relationships easier to maintain and manage

And much more
The effortless way isn't the lazy way. It's the smart way. It may even be the only way.
Not every hard thing in life can be made easy. But we can make it easier to do more of what matters most.
That's it – we've made an executive decision. And you're the first to exclusively learn about a new category of professional growth and development that we've just invented: Beach Business. It's called balance, and if we've learned anything over the last few years, it's that self-care and work don't need to be mutually exclusive, so it's settled.
Beach business for the win!
Join us, won't you?
Most businesses feel trapped because they can't find the right team to grow their company. At BELAY, we provide the right-sized team members to grow your business, eliminate chaos, and enjoy your work.
Our vision is to help you achieve your vision.
Ready to hire BELAY? Ready to be hired by BELAY? We got you.
Virtual Assistants • Virtual Bookkeepers • Social Media Strategists • Website Specialists