Missed any of our podcasts last month? We've got you covered!
We've rounded up every podcast for easy access and your listening pleasure.
112 Bonus: Inspiring Positivity in Your Team with Jon Gordon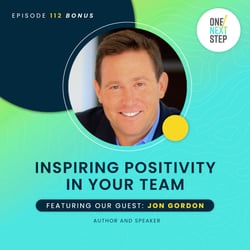 Positivity is not sticking your head in the sand to ignore challenges, but rather facing them head on with optimism and courage.
In this episode, author and speaker Jon Gordon explains how positive leadership can transform your organization.
He also shares success stories he's seen firsthand from some of the world's top organizations and lays out some practical steps you can take to start becoming a more positive leader today.
Listen here.
Everything Last Year Taught Us About Leadership with Brian Dodd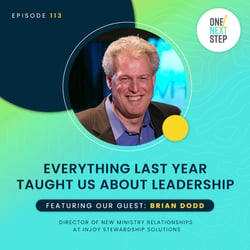 Join us for our conversation with Brian Dodd, Director of New Ministry Relationships at Injoy Stewardship Solutions.
He'll chat with us about all things leadership – from how to measure effective leadership, building winning cultures, questions we should be asking our teams, and a whole lot more.
Listen here.
113 Bonus: The Number One Lesson from Building Winning Cultures with Brian Dodd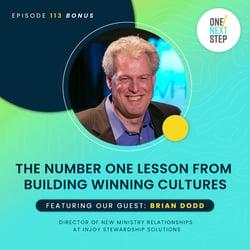 In this Bonus Next Step, Brian Dodd shares about his most respected sports figure – who it is, why, and the biggest lessons he learned from them.
Listen here.
What Can a Virtual Assistant Do For You with Bruce Ackerman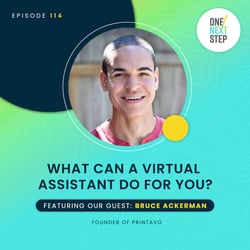 When scaling a business, it's natural to reach a point where you feel like your limited capacity is slowing down the business' growth.
In this episode, LZ will talk with Bruce Ackerman about his experience hiring a BELAY Virtual Assistant. Bruce is the founder of Printavo, a software company that helps screen printing shops stay organized as they grow.
Bruce will also talk about some of the biggest challenges he's overcome while building his business and will share advice for other entrepreneurs.
Listen here.