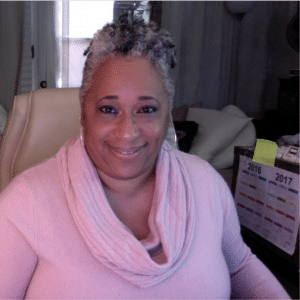 In early 2016, Paulette Weems may have thought she was in for the shock of her life, but guess what really happened? She actually got a new lease on life. Read on to see how Paulette found her way to BELAY and how she serves organizations as they grow.
"The day I left my prior job, that's when I started sleeping again. The insomnia stopped. Today my blood pressure is down, too, and I have a much better sense of total well-being and intention about my days."
That's just part of a testimony from the BELAY virtual assistant who came on board after losing her job as Assistant to the Chief of Police amid a change in administration – a transition that resulted in multiple staffers being reassigned or pink-slipped. Though she had served in the department for eight years, Paulette was let go as incoming leadership hired a largely new team.
She wasn't quite sure what she'd do. As a tenured customer service and administrative professional who had worn all sorts of hats through her career, Paulette did what comes naturally to her – she tried. She gave it her all.
"After about four or five months of really pounding the pavement, nothing was really coming through," she explains. "Then I subscribed to a service for those seeking flexible, home-based work. It was a turn of events; I really believe it was 100 percent God's doing."
Paulette Finds BELAY
BELAY's posting for executive virtual assistants popped up, and Paulette was curious. She began investigating the company, reading online reviews and even consuming articles like this very one.
"It was the mission statement that really made the difference," she recalls. "Sure enough, two weeks later, I heard from HR and started the interviewing and assessment process. Then I got a formal offer. BELAY felt like a warm blanket around my shoulders."
On being a mature worker
Bias in the employment market because of age is a troublesome reality. According to this Time article, "Age Discrimination and Lost Income Are Hurting Older Workers," age discrimination among older women in hiring is strong and real. In a cited sample study, job applicants over the age of 64 experienced an abysmal callback rate.
"Being older has its pluses and minuses," Paulette says, detailing the story of a longtime friend who, in an economically troubled city, has had to get a job a 45-minute commute each way, only to work for a modest wage.
"I cannot imagine!" she says. "We work all our lives to have flexibility or a degree of independence. But I believe we have to create it for ourselves. Thankfully, BELAY doesn't look at the fact that you're older; they look at the fact that you're experienced."
Plus, with age comes wisdom. According to Paulette, whether older people in the job market want to work or need to work, they bring intangible value to companies and organizations.
"They still have energy and their wits about them, and they enjoy getting out there to do something, even if it's only part time. It gives them an added enjoyment to their life."
Work days with a difference
Paulette feels she makes a real difference in her work with BELAY. Since joining the company in May 2016, she has served several clients – all in unique industries. Her tasks involve telemarketing, outbound lead prospecting, marketing and even assisting with the development of organizational policies and procedures.
This isn't Paulette's "first rodeo" when it comes to working from home. In fact, she moonlighted as a part-time customer service representative on a remote basis when her now-adult daughters were young. But virtual employment back then, she says, was nothing like what her experience has been with BELAY.
"Back then, it was strictly customer service and very regimented in the functions performed," she offers. "Yes, there was flexibility in that I was able to do it from home, but it was also restrictive in terms of required work hours and scheduling."
A distinguishing factor with BELAY is the level of trust, autonomy and diversity in a day's work.
"BELAY actually takes your experience and a skill set, and matches them with what the client or project needs. They help you to appreciate and realize where your strengths lie and what your weaknesses are, while encouraging you to upgrade your abilities in the process."
Time for living
As noted, Paulette has seen a measurable difference in her well-being since shifting gears. But the momentum in this direction goes beyond the medical. She believes the overall quality and focus of her life are more fruitful and substantive. Just one example is making the most of her additional time.
"We seem to spend more time together, even if it's just sitting around, eating dinner and watching a movie," Paulette says of her two grown daughters and six-year-old granddaughter.
This is a drastic change from her life as a salaried, office-based employee. "Even though I worked regular business hours, it was not uncommon to get to work at 7 a.m. and not get home until 6 p.m. or 7 p.m. I have a lot more freedom in time and time management. I don't have to scramble to make the most out of just a few hours in any given day or just over the weekend anymore."
Today, Paulette estimates that she fills up the tank in her Toyota Camry only once a month – at about $35 a pop.
"Based on that alone, you couldn't pay me to go back to an office job!"