So. You want to be a virtual assistant.
Maybe you know what 'virtual' means. And maybe you know what an 'assistant' is.
Maybe.*
*For the uninitiated, a virtual assistant is an independent contractor who provides administrative services to clients while operating outside of the client's office and typically operates from home.
But maybe the rest of the details are a little fuzzy for you. So maybe you want to know exactly what a virtual assistant is and does because you want to become one – and you know that the more you know, the more likely you are to be successful.
You sound like our kinda VA.
Thankfully, we've just published a brand-spankin' new ebook with our friends over at Base to exhaustively cover just that.
We're talking nuts-and-bolts, nitty-gritty, everything-you-need-to-know kind of information to equip those wanting to become virtual assistants with the confidence to pursue their dreams.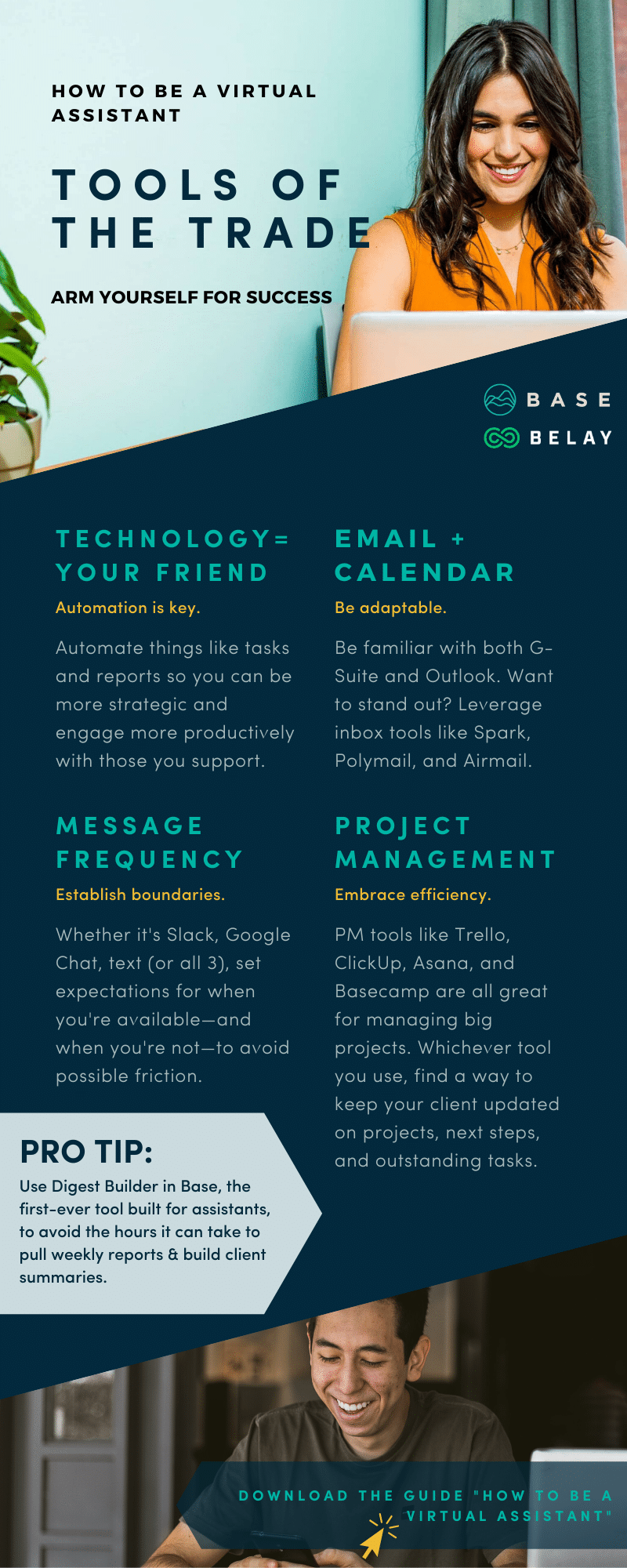 Specifically, this ebook will cover – and answer – the following:
Roles of A Virtual Assistant
Defining what a VA is can feel a little like trying to nail Jell-O to a wall. Why? Because they could be and do virtually anything. Here we'll cover what a VA is, what they can do, and how they differ from their brick-and-mortar counterparts.
Additionally, we'll answer …
Executive vs. administrative vs. virtual assistants: What's the difference?
What's the difference between a contractor and an employee?
What are a virtual assistant's responsibilities?
What are some considerations before becoming a virtual assistant?
What Makes A Great Virtual Assistant
So, now you know that you definitely want to be a virtual assistant and that you have what it takes. But what you don't want is to be a good virtual assistant—you want to be great.
There are a few mission-critical qualities that make for a great virtual assistant, which include …
Personality
Experience
Education
Skillset
Tools Of The Trade
As a virtual assistant, you'll need a certain level of tech-savviness and an openness to new tools and communication methods.
Without daily in-person chats with your client, you have to be able to clearly articulate your needs, updates, and requests via other channels.
In this section, our ebook will help you understand the importance of making it a point to learn about new software, templates, and apps that would help make your job easier and your client's life better, such as …
Base
Email
Calendar
Instant Messaging
Project Management
Password Management
Document Sharing
Tips & Tricks For Beginners
A virtual assistant role is not a simple and easy one. You are responsible for another person's productivity, stress level, and time, and there are so many ways to support your client throughout the workday.
Here is where we show you where to start, including …
Setting clear goals and expectations
Being a strategic partner
Implementing defined processes
Continued learning and development
Setting boundaries
There is so much to learn about being an amazing assistant – and it all begins with your free download of 'How To Be A Virtual Assistant: A Beginner's Guide' – today!
With that, you've taken the first step to getting started and making a difference in someone's life – congratulations!