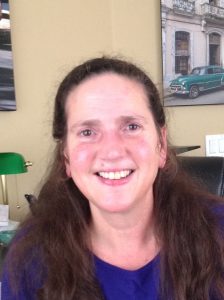 "I love numbers. I've always loved numbers."
It's no surprise that a professional who does bookkeeping for a living has a penchant for all things numerical, but perhaps few speak of it with as much enthusiasm as Kim Giannopoulos.
"My favorite part is reconciling – I love messes and cleaning up books, putting things in the right account – accrued expenses, prepaid expenses – all that good stuff."
Kim, a BELAY bookkeeper, is not only a qualified record keeper and data manager of clients' finances and business books – she is also an entrepreneur herself. When she joined BELAY in March 2016, Kim brought a proven and extensive track record as a small business owner in tow. That's because since 1995 she has run her own bookkeeping company – and her BELAY clientele represents a segment of her portfolio.
With BELAY, Kim serves many clients – all churches, located in five states.
No matter the client or industry, Kim finds serving faith-based organizations especially fulfilling. This is particularly true as someone who previously worked as a controller with a major corporation and has counted big businesses among her clients.
"With a church, it's more fulfilling. They're all here working for something, trying to make this world better," Kim says.
Work from Home – The Woes and the Wonders
As a transplant to Tehachapi, Calif., Kim is new to working from home. Though she's been working independently and operating her own business for more than 20 years, she spent much of her time on the road, traveling to her clients' sites and offices, until she relocated two years ago from Boston.
"I wanted a bit of New England, but not too much," she says of the area, where she can still enjoy bursts of cooler weather and even snow at times. "Before I moved, I spent up to three and a half hours [a day] in the car because I lived in Georgetown and always traveled to Boston."
Kim lost about 30 percent of her clients when she moved, but she made up the difference by partnering up with BELAY. With it, she's experienced the benefits working remotely, like no commute and gas savings.
"When I moved here, I lost some clients, but all that travel time went away," she shares. "When I expanded [my business] through BELAY, I was so excited, and they kept giving me more clients as time went on."
Still, it can be hard to strike a balance, even with no required road time and offsite client meetings. Kim is a true go-getter with entrepreneurial drive.
One struggle Kim faces is moving – that is, just simply getting up from her desk enough during the typical work day.
"I spend a lot of time at my desk. I take breaks; I do some yoga in between to keep active and get the blood flowing. That's the thing now – that would be the only downfall; I'm not moving as much as I should."
On a more positive note, Kim has been able to clean up her diet a bit as a work-from-homer. With the kitchen nearby, she makes better nutritional choices. "I used to always eat lunch in the car, so I was limited in what I could have. So it's nice to be able to eat healthier. Also, of course, I can do a load of laundry in between."
Downtime
Typically, from 7 a.m. to 5:30 p.m., Kim is working. She may be at home, but her home is her workplace. While stepping away and turning it all off at the end of the workday can be a challenge, Kim does enjoy a few unexpected diversions.
For example, she's an automotive enthusiast. Kim has a passion for classic and antique cars. But she's not merely a spectator – she actually works on cars, too.
"Before I moved to California, we had a four-car garage. I did all my own repairs. Today, I do all my car maintenance and oil changes."
Kim also plays bass and acoustic guitar. She and her husband "jam and sing and have fun," and – for now – the living room is their stage. Together, they also travel and are getting acquainted with the California lifestyle and all the many destinations within the state – visiting cities like San Francisco and L.A. and stopping to see her adult children in Oxford and Ventura, too.
"The adjustment has been great," she says. "When you're able to work for yourself and do meaningful work that helps people and makes a difference, that may be the best work-life balance of all."
Are you looking to work from home like Kim as a Bookkeeper with BELAY? Visit our Jobs page to fill out an application. If you are looking to outsource your bookkeeping to one of our highly experienced bookkeepers, fill out the Get Started form, and we'll call you to find out how we can help your organization.