Today we welcome Martha Rhoades as we peer into a day in a bookkeeper's life...
Martha's journey to becoming a contractor with BELAY started when she was serving as her church bookkeeper several years ago. She was also homeschooling her son and trying to balance teaching and working outside of her home. Martha realized that she wasn't serving both roles well. She was either at work feeling guilty that she was neglecting her son, or she was at home worrying about her responsibilities that needed to be done at the church. Reluctantly, Martha resigned from her job and came home to be her son's full-time teacher.
And then, as they do, her son grew into a responsible young man who no longer needed her full-time attention.
Now what?
Through a friend, she found BELAY - the perfect solution for her. She could use her background, skills and interests – all from the comfort of her own home - and get paid! Martha holds a professional certification in accounting; however, she found that a career in that world was always stressful and just a "job" that she never felt called to.
God led her first to volunteer and then work at her church. This is where she felt led to use her skills to do His work and felt a great sense of satisfaction and purpose being a bookkeeper for her church. Though she's returned to work, she finds great joy in being able to serve churches all across the country through BELAY. She might not be able to attend these churches physically, but she still feels that she is part of their community.
The Church Lady
Martha came to BELAY with thirteen years of bookkeeping experience. Those years she worked at churches, she was more than just a bookkeeper serving as a property manager, contract negotiator, hand-holder and budget problem-solver, which earned her the name she called herself, "The Church Lady." Martha has a gift of making suggestions to her clients they may, or may not have thought about when it comes to their finances - and hopes she makes their jobs easier by anticipating areas of possible problems.
Martha says her success with her clients is all about communication. "Communicate, communicate, communicate! I can't just pop in an office to ask a question or prod for an answer. I make sure I am frequently communicating with my clients so they know what is coming up, what information I need and by when, and how I need to accomplish the tasks they have given to me." She adds, "Each client is different, and I pretty quickly learned the best way to communicate with each client and how they like to be kept informed of what is going on."
When asked what was the most challenging thing about working virtually, she quickly answered "LUNCH!" – she often has to remind herself to take a lunch break and then usually ends up bringing it back to her desk and continues working. That is true passion for bookkeeping, her clients and her work! Her role has been a true life saver over the last six months.
Hurricane Harvey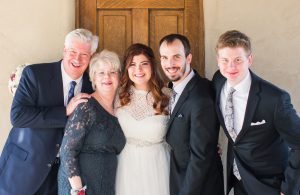 In August of 2017, Hurricane Harvey hit the Houston area. Among all the other damage the storm created, Martha's home was flooded. "BELAY was there when God knew I needed an anchor in a sea of chaos." Since then, Martha and her family have had to live in three upstairs rooms. She is stuck at home most days with construction workers hard at work repairing the damage. Without BELAY and her clients – she would go crazy! Her world is confined to about 600 square feet and boasts a makeshift kitchen in her garage with her refrigerator running from the back porch. Her engagements have been her reason to get out of bed when she is discouraged, and through it all, she has served her clients and BELAY with grace, transparency, positivity and professionalism.
Martha thanks God every day for the provisions He provides for her and her family.
---
Interested in contracting with BELAY, too? Check out this post or you can apply here.