Danny Dura is CEO and co-founder of Graphium Health, a software company providing cloud-based AIMS and practice management software to anesthesia providers, provider groups, and hospitals.
Its mission is to make hospitals, surgery centers, and private practices the best they can be by developing technology that fits effortlessly into organizations'​ preexisting workflows and helps health professionals keep their attention on providing outstanding patient care.
The Challenge
"Over time, you get this idea that as a CEO you have to do everything right," Danny says. "It's fairly pervasive; it's natural – it's a part of who we are. In some sense, we like having control over a lot of things."
"But that ends up in a situation where we can really wear ourselves down pretty quickly by taking on more than we probably should."
"As you embark on a journey of delegation as I did, you start to learn very quickly that there's an incredible efficiency that comes from finding the right people to do some of these tasks – and that there's actually very little you can't delegate."
"And so I finally got to a point where I needed to hire an assistant to help keep me organized."
Danny decided to publish a job listing on multiple sites to find someone.
"I actually got a good amount of response back," Danny explains. "We have a good hiring process. We have people submit videos and do other things, and the reality was I just wasn't finding what I liked."
"I needed somebody I could trust. I'm going to be giving them a lot. I'm going to do it very quickly, and I wanted somebody who was going to dive in quickly."
"I found BELAY through a Google search, called them up – and the rest is history."
Enter BELAY Virtual Assistant Jennifer Brownell.
The Solution
"We have a very defined company culture that we protect, and Jennifer was an instant culture fit," Danny says. "She really wanted to dive in. She kind of had a no-nonsense way about her that matches with my personality."
"And so Jennifer came and instantly, she knocked it out of the park. She took direction very well. She took my feedback well."
"And then she just started asking for more. That was [when] I knew we had a great fit [because] she had the hunger to take more on. I knew immediately she was going to be with us for the long term because she's the kind of person we like working with."
"It was a match made in heaven."
But Danny wasn't the only team member who noticed Jennifer's well-matched work ethic.
"My VP of Operations, John, was watching all of this happen and he's like, 'I need a Jennifer.'"
"And so we ended up with [BELAY VA] Tessa as well who's also just absolutely incredible."
"Suddenly these people are contributing in incredibly meaningful ways in the company, not just as assistants."
"These are team members. These are people we trust with projects as we would any other employee in our company."
The Result
"Jennifer has become my de facto project manager," Danny says. "She manages my email, which is one of those things that is underestimated from an assistance standpoint. It seems like something simple, but to do it right takes some skill."
"When I first looked at bringing on an assistant, I thought, 'Oh it'll be great to have my email and calendar and tasks managed.'"
"Jennifer has been such a benefit to me personally allowing me to be successful [and] to the company. She's become a backstop for me. She knows she can hold me accountable for what I'm committing to her and vice versa."
"That has really benefited us in incredible ways. It's really helped me kind of take things to the next level."
"I'm mad I didn't do this earlier. Had I just had someone good at managing my calendar and setting up appointments and managing my expenses, that would've been a win, no doubt about it. That would have really freed up some time."
"But it's so much more than that."
Meet the Specialist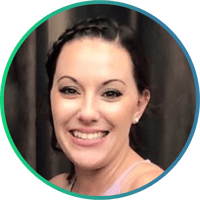 JENNIFER BROWNELL
Virtual Assistant