John Lutes is Vice President of Operations at Graphium Health, a software company providing cloud-based AIMS and practice management software to anesthesia providers, provider groups, and hospitals.
Its mission is to make hospitals, surgery centers, and private practices the best they can be by developing technology that fits effortlessly into organizations'​ preexisting workflows and helps health professionals keep their attention on providing outstanding patient care.
The Challenge
"My boss reached out to BELAY first," John says. "He and I met up in Dallas almost a year ago, and I was like, 'Listen, I am just getting run over. I don't have time.'
"And that's when he suggested, 'Well, you know what – I think I might have something to help with this.'
"He had just started with Jennifer [his BELAY Virtual Assistant], so that's when we reached out to [our Client Success Consultant]. Finding good people is hard. [We were] able to call her and, two or three weeks later, we had somebody and were quickly off and running."
"We've been running strong ever since."
Enter BELAY Virtual Assistant Tessa Woollam.
The Solution
"Tessa was brought on to help with kind of a reorganization of the sales product, and she has since been a jack of all trades," John says.
"I am fully, 100-percent confident in knowing that she is completely able to do all [that I give her] and more."
Tessa has been instrumental in helping John with things, such as recruiting and hiring, taking the lead on meetings when John can't attend, and tackling all things Hubspot.
"She's fit right into our company culture without question," John says. "Anybody who works with her or talks with her immediately loves her."
"Culture is such a big deal to us, and it's something we actually consciously work on a lot, and she just fit in without a problem."
"[John and I have good] communication and a mutual respect," Tessa says. "I think we've all had people who we've worked with that were not for you or there wasn't a respectful tone in the way they talked."
"John has always been super respectful of me and I'm not afraid to ask him questions or even start a project and say, 'I need to come back and we need to talk about this again.'
"Being open to communicating whenever and having the same goals in mind is really critical for success."
The Result
By getting the right support through Tessa, John has gained more time in his day and a friend in the process.
"There are little things that I can concentrate on now more and more," John notes. "It's crazy — she's been here almost a year, but if I actually look back on what it was like before she was here, it was so much harder."
"We're about to go into a stressful season for us, and now it's not even a thought in my head because so much more is off our plates, we're so much more efficient in what we're doing."
"What we've done over the last year has now put us in a position to be able to do the things we know we need to do over the next six months, and Tessa's obviously been a huge part of that."
"One of my biggest wins outside of everything else is a friendship I didn't expect."
"Getting matched with Graphium is such a win," Tessa adds. "I wasn't sure if anesthesia was up my alley, and it completely surprised me. I'm so thankful and I love being a part of the team. I'm always looking to see what's next, and I find it all very exciting."
"I'm hugely thankful for being able to find Tessa and Jennifer, and to BELAY for making those introductions," John says. "The impact that they have both made on our company and our working lives has really been fantastic."
"And it's not just me saying that — that's literally every single person in this company that would say the exact same thing about Tessa and Jennifer."
Meet the Specialist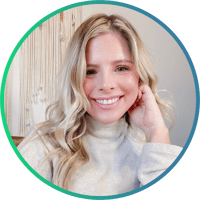 TESSA WOOLLAM
Virtual Assistant