Go to sleep. Stop thinking. Worrying. Just … stop. And go to sleep. If you fall asleep now, you'll get almost four-and-half hours of sleep. Well, now it's four hours of sleep. You can survive on that. Just go to sleep right now. Three hours is enough, too, I guess …
Oh, the lullaby countless women everywhere sing themselves to (not) sleep.
Sound familiar? Maybe way too uncomfortably familiar if we're being honest with ourselves.
Married. Single. Working. Staying at home. Kids. No kids.
Despite our differences, one thing is certain: Women everywhere – all ages, professions, lifestyles, races, and wages – are failing to ask for help.
But why?
We're smart. We speak our minds. We're intuitive – intuitive and empathetic enough to immediately recognize when someone else needs help. And then, in the mad flailings of our own drowning, we will offer that help to anyone else at any time.
But not ourselves,
---
As we discussed at the beginning of the month, women need help. Here, we share the firsthand account from a case study of one of our clients who shared her story of when she realized she needed help from a Virtual Bookkeeper – and what life looks like for her now that she's got it.
Spoiler alert: You may not be 'fine' – and that's just fine
---
Meet Sally Breen.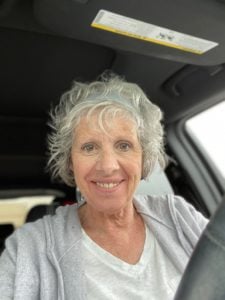 Sally is the co-founder of 3DM Publishing, alongside her husband, Mike, and for 10 years, they've published over 25 books, all with the expressed aim of teaching people to disciple others who will in turn disciple others.
And once upon a time, 3DM Publishing had a large team of people.
Soon, they downsized, leaving just Sally, her husband, Mike, and their daughter. But when their daughter decided to return to England, they quickly realized they needed more help.
They knew they didn't want another 'large team' or the responsibility of managing one; they wanted contracted help.
And thankfully, that's exactly what BELAY is in the business of providing.
ENTER: A BELAY Bookkeeper
Despite knowing they needed help and that they wanted to hire a virtual bookkeeper, handing over the books proved more challenging than Sally anticipated.
"I held very tightly onto the reins," Sally confesses. "And so I was a little hesitant at first that anyone could help me. I really needed help – I really, really needed it – but I was apprehensive about working with a bookkeeper [who] gets to know all of the insights of your financials."
She was flooded with questions and concerns, understandably, after placing trust and being betrayed in the past.
She worried, "Will they know what I like doing? Will they understand my system? Can I trust that person?"
Thankfully, Sally's husband was reassuring, convincing Sally that she simply couldn't do it all – and even more thankfully, Sally was immediately impressed by their BELAY bookkeeper, Amanda.
"I started to talk to her, and I could see that she understood both where I was coming from and understood bookkeeping a lot better than I did, which is what I wanted," Sally shares. "So I basically just sort of let it go."
Soon, Amanda was making little suggestions.
"She was so sweet," Sally recalls. "She would just say, 'How about just doing this?' And we'd be like, 'Oh yeah. That's a really good idea!'"
Sally has loved Amanda's approach to taking over the books.
"I've got my own little weird systems," Sally says. "And [Amanda] kept saying, 'Just try this.' And now – and I'm not saying this – I just don't know what I would do without her."
The Life-Changing Results
"When you own a small business, [you're] doing bookkeeping, got the phone going, got the orders needing to go out," Sally says. "So the fact that she is the specialist is such a relief. I can go on vacation now and not worry!
"I gained real freedom; I genuinely gained freedom. I gained freedom from worry because I was always worried about the things that I hadn't done because I'm not a bookkeeper."
And so did Sally's husband, an entrepreneur 'always growing something.'
"He's got this other business going on and he's just asked Amanda to take on the bookkeeping for all that," she shares.
But arguably more important than gaining an exceptional bookkeeper?
"I have gained a friend. It's just fantastic."
---
Are you 'fine?' Could you be more 'fine' – or actually fine? We can help – and getting started is the easiest thing you'll do today.