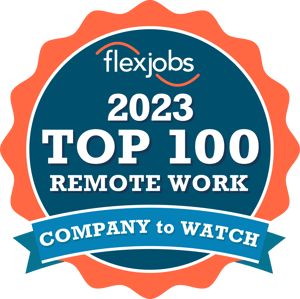 We're proud to announce that BELAY has been named to FlexJobs' 10th annual list of the Top 100 Companies to Watch for Remote Jobs in 2023 for the sixth consecutive year.
This list is based on an analysis of approximately 58,000 companies and their remote job posting histories in the FlexJobs database between January 1, 2022 and December 31, 2022.
BELAY is one of 100 companies that had the highest number of remote job openings throughout 2022. A "remote job" is defined as a professional-level job that allows the worker to work from home either entirely or part of the time.
"BELAY has been leading the charge in disrupting the status quo and dismantling the 'way things have always been done' as a 100% remote organization – for both contractors and corporate employees alike – since 2010," said Tricia Sciortino, BELAY CEO. "So this recognition is a testament to our commitment to walking the walk of work-life balance."
"We're proud to serve our clients with high-touch, excellent service, and steward them with passion, integrity, responsiveness and give them the best service in the market – all from home."
Having a choice of work environment and location is now a key factor for the majority of job seekers when evaluating new career opportunities. According to FlexJobs, 97 percent of workers want some form of remote work moving forward.
BELAY was ranked #13 on the list. BELAY's more than 1,500 contracted Virtual Assistants and Accounting Specialists, as well as every one of its neary 130 employees on its corporate team, all work remotely.
"As leaders in the remote job marketplace, we are thrilled to once again shine a light on the employers that have made remote hiring a priority for their businesses," said Sara Sutton, Founder and CEO of FlexJobs.
"As it was when we first created the Top 100 list a decade ago, our goal in identifying these remote-friendly employers is to help job seekers connect to remote career opportunities and to celebrate the companies championing for a more flexible future of work. Even amid current economic uncertainty and challenges, the continued interest and investment in remote work has created a healthy, robust marketplace for remote career opportunities," Sutton concluded.
FlexJobs saw a 20 percent increase in the number of remote job listings in 2022 over 2021, compared to 12 percent growth the previous year.
The threshold for employers to make FlexJobs' Top 100 list has increased from previous years, meaning companies had to have a higher number of remote job listings in order to earn the distinction. Companies on the list span a variety of industries, such as biotech, business services, education, finance, healthcare, insurance, retail, software development, staffing and recruiting, and travel.
To view FlexJobs' entire 2023 Top 100 Companies for Remote Jobs list, please visit: https://www.flexjobs.com/blog/post/100-top-companies-with-remote-jobs-2023