Vonetta Young is a solopreneur and the owner of Vonetta Young Advisors, a business consulting company that supports its clients with the roadmap to access capital to produce generational wealth.
Vonetta Young is an outsourced Chief Strategy Officer whose vision is to shift the paradigm of wealth from the personal to the societal and empower women and people of color to live in sufficiency and freedom.
The Challenge
As a business owner who helps others, Vonetta found herself in a place where she was the one without help.
She had a four-month-old baby, no permanent childcare, and she and her husband were balancing both of their jobs and their lives at home.
"I was trying to get my consulting work done," Vonetta says. "I was scheduling my own calls and doing my own invoices, and I was about to lose my mind."
"I learned about BELAY through a colleague of mine who was also a BELAY client, and she spoke really highly of her assistant."
Ironically, the very week Vonetta reached out to BELAY, things really unraveled.
"I think I had all the pain points," Vonetta laughs. "I was overextended. My husband and I got sick, my baby got really sick for the first time, and everything went completely and totally haywire. I just didn't have any support at all."
"I needed a lot of support in terms of my own admin, but then also my actual life. too. We were trying to find my son a daycare and even the nanny search was going terribly. We kept getting sick, and things were just going really terribly."
"I'm a very organized person, but I had no bandwidth because there was just too much going on."
Enter superhero BELAY Virtual Assistant Helen Fitzhugh.
The Solution
"I have been extraordinarily happy," Vonetta says. "[Helen and I] met a couple of times [before] eventually we went to a weekly meeting cadence – which we're still on – and that's worked really well for us to have that weekly face-to-face virtually."
Vonetta created a 'life spreadsheet' for Helen to provide a breakdown of everything she needed help with — including a list of her clients, social media, nonprofit boards with which she is involved, her writing and editing endeavors, and the scope of her personal life.
"That literally laid out all the facets of my life," Vonetta says. "I knew it would be well worth spending the time mapping out all of these things so that [Helen] and I could be very clear about what was going on."
"I also wrote out SOPs for days I preferred taking calls, the length of time I prefer those calls to be, my vendors, my usernames and passwords."
"We had two meetings to cover those things, and I think that set us off on a really good foot. I now have a better sense of even what I have going on, despite the chaos that was going on at the time."
The Result
"[Helen] started out scheduling my calls and managing my CRM and email list," Vonetta says. "And then, my baby had eczema and we needed to take him to the dermatologist."
"I [realized] I had no mental capacity for calling the dermatologist and making this appointment."
When Vonetta realized that Helen could more than help her with a personal task like making an appointment, a lightbulb went off.
"I was like, 'Oh this is great. She's able to make my son's dermatologist appointment. That means she can help with basically everything else in my life,'" Vonetta added.
In Vonetta's business, Helen has helped her with the backend set-up of virtual workshops, creating registrations, and paying vendors.
"[Helen] also basically planned our baby's first birthday party," Vonetta says. "She ordered the tent for our backyard, I told her the food I wanted to order, and she ordered the cake and decorations. It just all came to my house."
"Before we sang 'Happy Birthday' to the baby, I was like, 'We're going to call Helen and everyone is going to say, 'Thank you, Helen.'"
Vonetta was able to gain trust with Helen early on through vulnerability, and this engagement has brought Vonetta a sense of freedom and ease in her business.
"Helen's always been very warm and friendly, and I felt that I could trust her," Vonetta says. "Our relationship has never been transactional."
"Having Helen has empowered me to focus on what I actually really want to do. And to me, that is an accomplishment. This is the first time, as an entrepreneur, I've been able to focus on the work that I want to do rather than focus on building my own business."
"I spent the time building out that infrastructure so that [Helen] can be perfectly competent to take care of it so I can actually do the work I want to do."
Meet the Specialist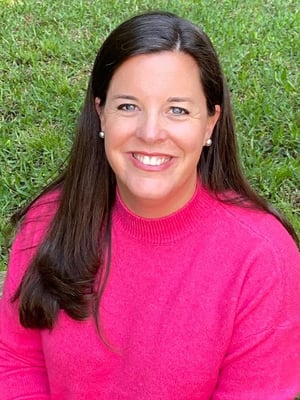 HELEN FITZHUGH
Virtual Assistant