Theresa Fauser is the executive pastor at The Foundry, a church on a mission to know, follow and share Jesus with their community of Houston, Texas, and the world.
The Foundry is a large Methodist church that has two locations in the Houston area with about 4,000 members in total and over 100 employees.
The Challenge
Theresa has been on staff at The Foundry for 16 years and in her specific role for five years. Theresa first reached out to BELAY when her administrative assistant of 14 years had retired and she was in a transition period.
"I was pretty desperate when I reached out to BELAY," Theresa says. "I was kind of going it alone for a little bit. My calendaring, email, backend administrative pieces and reviewing contracts — making sure to keep up with all that — was definitely struggling.
"I've become the BELAY spokesperson now. The process was so smooth and so easy."
Enter BELAY Virtual Assistant Wendy Hirte.
The Solution
"Once [I was] matched with Wendy, we would talk about what the problems were and she would be able to offer solutions and solve them," Theresa says. "I felt like, in the beginning, we were tracking ahead of where our goals were because [Wendy] takes [so much] initiative.
Wendy took over email and calendar for Theresa — providing her almost immediate relief.
"Now, everything goes through Wendy," Theresa says. "She does all of my scheduling and calendaring. She's got it under control."
"I felt like things went really well right from the beginning," Wendy adds. "I have had quite a few years of experience working with lawyers mostly, so I'm used to a lot of problem-solving.
"[The key was] learning about the church, who the people are, the needs, and how we can work out systems to make things more streamlined."
And Theresa was looking for an added layer of accountability when she started working with Wendy.
"Partly what I needed from an assistant was somebody who [would help] hold me accountable," Theresa says. "I've talked to other people and they're like, 'I don't want anybody reading my email and I don't want anybody making sure I do whatever.'
"But Wendy is great about like, 'You still have these things you haven't responded to or answered. How would you like me to move forward? Or would you like me to leave those open for you?'
"And so I feel accountable to every Monday and Thursday when we [meet] and go through the list of like, 'Okay, I need to be able to move forward, and she's trying to help me move forward."
The Result
"Wendy is an asset to the whole organization," Theresa says. "As executive pastor, I am responsible for lots of things that come in and new projects and initiatives we're starting.
"She's good at proficiency in systems and processes, and so she's able to help our staff where that's a gap.
"She surprises me all the time. I didn't anticipate that she would take initiative, and she would see what needed to be done or how things could be better or systems that we could create — and then do [those things].
"She's a great fit for me, but also just a value and benefit to the organization at this point. She provides support and is a resource for a lot of the staff."
With Wendy by her side, Theresa has gained a sense of consistency and freedom.
"It's been invaluable," Theresa says. "Wendy is helping me to be consistent and follow through. I'm not bogged down in all of the administrative pieces and documents and systems and all of that.
"I really feel this freedom now that I'll be able to focus on [what's next], and Wendy will be able to help me with the other pieces.
"The BELAY experience has given me the freedom to focus on the things I believe are a priority, and that I believe I am uniquely called to do.
"Our mission is to help people know, follow and share Jesus. And I feel like I actually get to spend time doing that now whereas before it was hard to see that in the middle of documents and systems and processes and email.
"[I have] the freedom to do what I'm called to do."
Meet the Specialist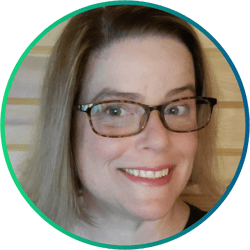 WENDY HIRTE
Virtual Assistant