Tamara Gollob is the owner of I Do Linens, a linen rental company that provides event enhancements in the form of custom orders, decals, dance floor wraps, and drapery installations.
I Do Linens provides affordable luxury for weddings, conferences, and galas that will leave a lasting impression.
The Challenge
Tamara was originally looking for someone to help her with social media.
When BELAY was referred to her and she read the website, she realized that bookkeeping was also an option.
"I've always struggled with trying to find an accountant to speak my language and to explain things to me in common language," Tamara says. "I'm a creative, and it's hard being a creative [and] running a business."
"I wanted a better footprint of the business financially: Where were we spending money? Where were we making money? Where were we losing money?"
"I needed someone to run those reports and keep on track of what was going on. So I started with that."
Enter BELAY Bookkeeper Kalee Richardson.
And it was only a few short months later when BELAY Social Media Manager Jessica Hubacher joined the team.
The Solution
"Kalee [provided] a super easy transition," Tamara says. "It's been just a piece of cake from the beginning."
"With Jessica, [BELAY] found someone who used to be a wedding planner and understands the wedding market [as well as] social media," Tamara added.
"Immediately, we clicked. She understood kind of what we had been doing with our social media and then came back to me with ways that we could improve and how to implement those [ideas]."
With both contractors, there was a hands-off approach that Tamara valued once the onboarding was completed.
The Result
For her bookkeeping, Kalee and Tamara started by tackling basic financial tasks.
"We have a weekly phone call, which I love," Tamara says. "It includes immediate asks of 'What was this charge for?' 'What was that charge for?' so we can categorize things properly and get everything tidied up."
"She started running P&L reports for me, and we use a special rent software that has a lot of reports in it. She was able to go into that system and run reports to determine which products give us the most profit."
"She's now [also] taking care of outstanding receivables. She's been following up with those clients, making sure they got the invoice and charging them a late fee. That really helps my salespeople."
Tamara's partnership with Social Media Manager Jessica has proven to be equally successful.
"Social media algorithms change consistently, and you might be doing something one way and you're getting great results but all of the sudden the meta is changed, and that no longer works," Tamara explains.
"Jessica is good at seeing what's going on with the post that she's creating for us. She pulls the metrics so we can see [our progression], and then discuss what other content we can [post] to create more revenue."
"Sales are driven by our salespeople, but also our social media presence."
Kalee and Jessica can celebrate small wins with Tamara each week, whether it be a clearer point of view on when more employees can be hired or what content is performing well on social media that can be repeated.
"They are both so knowledgeable in their field," Tamara said. "As a business owner, [you gain] success [by] the people you hire. If you're not good at something, you need to find somebody who is excellent at it."
"Your business will thrive because someone is doing their job effortlessly because they're knowledgeable. So in these two areas, they're both experts in their fields, they know what they're talking about, and I have complete trust in them."
"I see the results, I see the rewards, and I see the benefits immediately."
"People get hung up on the cost of having to pay something monthly," Tamara adds. "But honestly, if they really did the math and they break it down to the amount of work they're physically doing for you, it's such a benefit to having a service provide this for you."
"It's been so easy. I don't feel like I'm nickel-and-dimed. I don't feel like I'm not getting value for my money."
"I think people really understand what a benefit this can bring to your business without physically having to have a person in your office. I really feel for me, as a creative and as a business owner with a growing company, it's so beneficial."
Meet the Specialist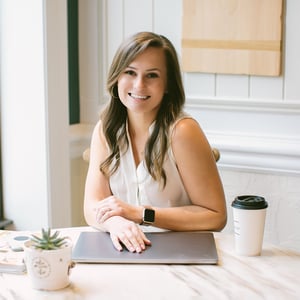 JESSICA HUBACHER
Social Media Manager