Rodney Finglass is the co-owner of ImproveIT! of Atlanta, a quality roofing service for metro Atlanta homeowners.
The Challenge
"As a small business owner, we're doing way too many things," Rodney admits. "We work in the business too much and not on the business.
"60 Minutes ran a big story on Virtual Assistants in 2022, and it piqued my interest. I was searching and searching on the internet and interviewed some people. There were [time zone differences] and some companies that wanted to charge through the roof [and] were just unaffordable for a small business.
"And it directed me to my search of BELAY. And living in Atlanta, you guys are an Atlanta company – it was just really the perfect fit for a Virtual Assistant company. Getting to know BELAY and some of the people [is what] led me to you.
"What I needed help with was numbers, payroll processing and reports. I could create the reports, but I was very inefficient in the way that I was doing it. So [I was looking for] somebody who was an expert on Excel and able to analyze data much more efficiently than I could."
Enter BELAY Virtual Assistants, Leah Langdon and Hali Scoggins.
The Solution
It's not lost on us that when onboarding someone, like a Virtual Assistant, a small business owner should invest time in conveying the intricacies of your business and processes.
"Even when Leah first came in, she was really smart, but it probably takes 30, 45 days to understand a business and have that 'Aha' moment," Rodney says. "And it's just repetitiveness and having patience.
"But [I could] see that she got it and was able to take the things that I did and put it into Excel and automate it through pivot tables and be able to take data and once saw what she could do, then you're like, 'Okay, what can we do better?'
This brought Rodney to hiring a second BELAY Virtual Assistant to help him in his marketing endeavors — working specifically on text and email drip campaigns.
"As a small business, you always need to be a better market and you're limited by funds," Rodney adds. "I couldn't go out and find somebody like Leah or Hali, with their skill sets, to come to work with me.
And that's what BELAY has been able to do [with what] I don't think any small business has the wherewithal to do in today's business climate.
The access to talent that [BELAY has is something] I don't have access to. I couldn't find a Leah or a Hali and get them to come to work with me. I would have no way of doing it."
The Result
"Working with Leah, she has made me more accountable because when you're doing it yourself, it's always easy to blow it off," Rodney says. "Oh, I can push it back an hour.
"So she's made me more efficient and more accountable to myself. I just look at her as an extension of me, and she can handle anything that I can give to her now."
Having team members who worked virtually was an unexpected relief for Rodney.
"I have a business [where] most of the people work in the office," Rodney says. "And having a Virtual Assistant [who is only] focused on the business and is not in the minutia of the day-to-day business that could get into any office politics and drama. The efficiency and productivity of that is almost a relief.
"And then it's almost kind of soothing working with your Virtual Assistant because as business owners, lots of us can get paralyzed or something when there are problems and we don't feel productive.
"And then when I'm working with [my BELAY VA], I get that sense of relief of like, 'Wow, I'm getting something done.' It makes me accountable and I enjoy it.
"I want to be able to have [them] grow and do more and more.
"The win is the level of trust to take that stress off that somebody else could do it besides me. I can have somebody else who could do a big portion of my job and I have to evolve into other things. You don't have to rely on yourself."
Meet the Specialists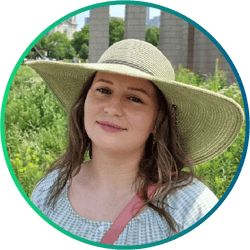 LEAH LANGDON
Virtual Assistant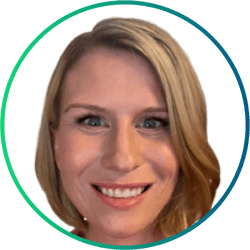 HALI SCOGGINS
Virtual Assistant