EMsono is a comprehensive, web-based emergency ultrasound education experience that was founded in 2006 in an effort to help people learn bedsound or point-of-care ultrasound.
EMsono was designed by Robert Blankenship and Robert Jones to meet the needs of business health care professionals.
The Challenge
After several years of being in business, Rob realized that he was spending a lot of time in the business and not a lot of time concentrating on growing the business.
"As I looked at our company, EMsono, I came to the realization that I was spending a lot of time working in the business."
"I'm calling customers, I'm looking up something, I'm resetting someone's password, but unfortunately I really didn't have the time I needed to work on the business."
"[I needed to work on] how to grow, how to reach more people, how to better send our message out to those who could potentially benefit."
"So we reached out to BELAY as a way to find someone who could take that part of the work away from me so that I could work on other things to help the business grow."
Rob fortunately already had an administrative assistant he loved working with at the hospital. It was because of this he was able to identify who would work well for him based on his leadership style and preference, and what would work well in an engagement.
He was able to use this knowledge to his advantage during his discovery call with his Client Success Consultant, and BELAY VA Jenna Ziegler was then matched with him.
The Solution
"BELAY was able to quickly find us a great match in Jenna in regard to her personality, her drive, and the professionalism that we needed," Rob remembers.
Jenna was able to step right in and tackle workflows from the beginning.
"She's helped us really reevaluate numerous workflows within our company so we can be efficient and effective," Rob says.
Because this first step was done and these workflows were put into place and saving time, Jenna was able to pivot to helping reach out to more potential customers and researching email campaigns and advertisements.
"We were looking for an administrative assistant – and we got that – but we also got a partner."
"Jenna's not just here to do the task; she shares our love and passion for the medical field and helping health care providers get better."
"Because of that passion, it makes her more effective in how she works, not just within our team and me in particular, but also with our customers."
"It is really cool to see how our partnership has progressed over time," Jenna says. "At first, it started with me managing inboxes and the calendar which was a perfect way to start — learning how the company works and learning all the systems."
"Over time it's just grown and grown. I've helped with streamlining processes, and I'm helping with business development. It's been natural in the way that it's progressed."
Jenna and Rob have had a successful partnership and credit part of that to their communication.
"Every week we do a catch-up [meeting] and Jenna runs it," Rob says. "The trick is just communicating and figuring out what's working and moving forward from that."
With the business being nearly 20 years old, it has been eye-opening for Rob to have Jenna step in and provide feedback and input on efficiency.
"It's been really wonderful having a third set of eyes looking at our business and saying, 'How can we better serve our customers? How can we scale this in a way that we're growing the business, which is important, but way more important is still providing exceptional service to the customers who come to us.'"
The Result
"When I first joined, it was more day-to-day managing clients, and now it's much more proactive," Jenna says. "We're looking to grow the business and the most efficient ways to do that."
"My position has grown to look more large-scale and long-term rather than just day-to-day, and I find that exciting."
Rob and Jenna have both been open and honest from the beginning on how each person works and responds, their motivations, their ticks, and even what brings them value, which has led them to accomplish big things as a team.
"On our first call that Rob and I had, we spent an hour and a half going over three questions," Jenna recalls. "'How do I want to be seen? What can you expect from me? And what can I expect from you?'"
"I've never had a client or a manager or anyone do that and go over those questions. For me, it was so helpful to know those things from the get-go and understand each other's personalities. It's been a game-changer."
Since gaining the support of Jenna, Rob has gained back time.
"You can't create time," Rob says. "I know the things that Jenna is handling are being managed exceptionally well and if she needs something, I know that she'll reach out to me."
"I now have that time back in my schedule to do the things that only I can do to help grow the company or give the business a more critical look. Jenna gives that time back — which is invaluable."
Meet
the
Specialist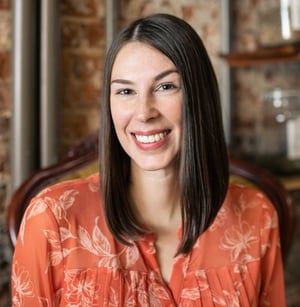 JENNA ZIEGLER
Virtual Assistant