Hey Salty partners with businesses, organizations and public agencies to promote and enhance their brands, programs and products. They help these companies create and develop communications that build trust in their audiences and ultimately generate revenue.
Their commitment is to bring outside-of-the-box ideas, impeccable execution, and high-touch customer service to every project.
The Challenge
Justin founded Hey Salty on March 2, 2020, as a solopreneur.
"About nine months into my business, I finally started catching traction," Justin remembers. "I needed to be able to extend myself. I wasn't in a position of being able to add headcount with full-time employees but — [by] being a busy solopreneur and focusing on not just being a consultant but really growing — things were falling through the cracks."
"Did I know that I was getting everything done? Sometimes not. I was hoping so, but I spent a ton of time going through my emails, worrying about my calendar, and scheduling meetings, and it was just overwhelming."
"At that point when I reached out to BELAY, I had signed enough retainer clients that I knew we had monthly revenue coming in."
"The first thing I knew I wanted to do was hire a virtual assistant to help me be in a position to continue growing while maintaining a high level of client service."
Enter BELAY VA Lindsey Harrell.
The Solution
"I onboarded my first VA in December 2020," Justin says. "She worked with me and was super helpful in getting my inbox in order and building processes. The biggest accomplishment was that the day that we were launching a major new website and campaign for our client, I was on the golf course at a charity golf tournament."
"I took some phone calls and did some things from my phone, but I was able to go and do that and actually enjoy the day."
Justin's first BELAY VA, Amy, had another job outside of being a BELAY contractor that took on a larger scope for her last summer. That was when Lindsey came on board.
"Lindsey was a go-getter from day one," Justin remembers.
"This was my first engagement with BELAY," Lindsey says. "Justin was willing to take the time to onboard, answer questions, jump on a call and explain a task."
"I've never felt like I couldn't reach out or bug him."
"I'm a fast learner and I'm also someone who reads the manual when they get furniture," Justin jokes.
"For me, what worked well was going over the onboarding materials BELAY sends out, such as the delegation matrixes and tasks quadrants."
And soon, Justin realized he needed more time from Lindsey every month.
"I bumped up my hours with [Lindsey] because I had more projects and more logistics items that I needed coordination and project assistance," Justin says.
Once Justin was able to hire full-time marketing specialists to take on those project roles, Lindsey was able to jump back into the tasks that enabled Justin to be more effective.
"I don't want to run my agency forever," Justin says.
"I want to own an agency. That means getting myself outside of the business to actually see it work and see things happen."
"Lindsey helped orchestrate and project-manage our work with another consultant around developing SOPs and internal workflows. She's able to be that extension [of me] and a gatekeeper [of my time]."
"We've worked well together," Lindsey says. "Being in the team meetings and [seeing] the shift of the team turning clients away because they're so busy is something that is fun and I'm honored to be a part of."
In 2020, Hey Salty's revenue was just over a hundred thousand and they totaled $400,000 in revenue last year — growing 400 percent.
"Being able to go ahead and ramp-up was something I would have not been able to do without my Virtual Assistant," Justin admits. "Lindsey gets the pace that we move at."
"There's a pace that we work at on the coast in major cities that can be overwhelming. Lindsey came in not overwhelmed – and figuring things out."
"In creative services, the only way you can grow the way that I did was having a team of people to help you scale. Lindsey helped me get to that point."
Meet the Specialist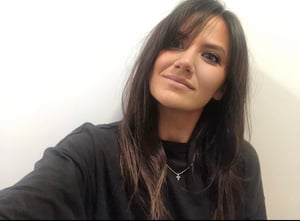 LINDSEY HARRELL
Virtual Assistant