Jason Barrett is the founder and master distiller of Black Button Distilling, the first grain-to-glass craft distillery in Rochester, New York, since prohibition.
Black Button Distilling makes award winning farm distilled Straight Bourbon and Rye whiskies, Bourbon Cream Liqueur and Citrus-Forward Gin from locally grown ingredients.
Founded in 2012 near Rochester's historic Public Market, Black Button Distilling specializes in farm-to-still products, using unique and all-natural ingredients from local farms.
Black Button Distilling has crafted over two million bottles of award-winning spirits in the last 10 years — distributing in 12 states and Japan.
The Challenge
"I always joked when I was in college that I was probably gonna struggle in the corporate world until I could get some assistance because there are things I'm good at, and setting my schedule and some of the details is not always one of them," Jason says.
"I had tried hiring a full-time assistant at one point, but I didn't have enough work for a 40-hour week person.
"We were getting into our busy season last October, and I was just drowning in trying to set up meetings. I felt like I wasn't getting anywhere, so I decided it was time to try again.
I wanted to try somewhere where somebody had experience, hopefully, there were processes in place, and they kind of knew how to be an executive assistant and could almost train me on how you should work with one."
"I googled it and BELAY had great reviews, and at this point, I swear it's the best money I've ever spent."
And that's when BELAY VA Alyson Ferwerda came onto the scene.
The Solution
Alyson helps Jason with a lot of his travel logistics. Alongside learning his preferences in which hotels to book and whether to book a car service or rely on the subway system, she books dinner reservations for him.
When visiting new cities, he prefers to take clients to local, authentic restaurants and she researches options and books reservations so that he can charm his clients.
"If I'm gonna fly all the way to Texas, I don't want to eat an Applebee's," Jason jokes. "I went to St. Louis and got to try this great Italian food at this little neighborhood joint that I never would've found, but it was a quick five-minute Uber ride away.
"The client I was taking out to dinner thought it was so neat that we had picked this classic, local place instead of just taking him to another steakhouse.
"And that made that dinner that much more impactful, as well as the fact that I got to have great Italian food. I just don't have the time to do that research myself."
Alyson takes time and stresses off of Jason's plate by coordinating his inbox and calendar.
"In any given week, I'm on between 30 and 50 Zoom calls and get 200 to 250 emails per day," Jason says. "Without somebody helping me coordinate that, it just absolutely explodes and my 87 employees don't have the direction they need."
To preemptively avoid any more explosions, Alyson schedules his meetings for 35 minutes or 40 minutes on the hour.
"I've got 20 minutes in between [meetings] so that when they run over, I don't end up late in a cascading effect," Jason says. "Before Alyson, my staff used to joke that by noon, I was two hours late and anything after four, just be prepared to stay the night.
"And now — I'm not saying it doesn't ever get off the rails — but it's more like once a month rather than every day because we're setting it up with more structure."
The Result
"I've found Alyson really wants to be a part of that business [and] help us grow," Jason says. "Besides my co-founder, she's probably one of the most impactful people in my business, and it actually astonishes me that she only works for me 10 hours a week."
Jason's biggest win in this engagement has been getting time back to spend with his family.
"I have a young daughter, and it was getting very stressful that my days just kept going off the rails," Jason remembers. "I'd end up working till 7, 8, 9 at night, day after day and not getting home in time for dinner.
"By setting those rules with Alyson — and she forces me to stick to my own rules — that the day needs to be done at five.
"I think my wife actually might like Alyson even more than I do because it has totally changed my ability to be there and present with my family for dinner. It probably went from four nights a month to four nights a week."
Black Button Distilling has grown exponentially since working with BELAY.
"Since bringing BELAY on, our revenue has increased by tenfold," Jason says. "I can honestly say that that would not have been possible in the last year and a half without the ability to be in more meetings, spend more of my time making decisions and driving revenue rather than futzing around trying to get everybody to the right place."
Meet the Specialist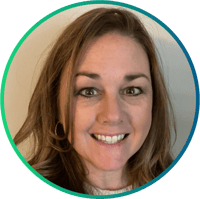 ALYSON FERWERDA
Virtual Assistant