Jasmine Womack is an executive coach, writing consultant, and self-publishing authority who is the CEO of The E.M.P.A.C.T. Group, a seven-figure online coaching consulting agency.
Jasmine helps high-performing leaders, professionals, entrepreneurs, and executives connect with others, package their expertise, maximize their message in a book, and help them use the book they write to grow and expand their business.
The Challenge
"My husband travels for work throughout the week, and I have small children," Jasmine says. "It was very difficult to handle the responsibilities of home while having a growing business. It got to the point where I couldn't do both."
"Something was going to have to give, or I was going to have to hire if I wanted to continue growing."
"I was referred to BELAY by my CFO," Jasmine says. "She had hired a Virtual Assistant [through BELAY] and spoke so highly of the services and of her executive assistant."
"So I gave [BELAY] a try and I set up a call. At first, I didn't go through with it. I thought, 'I can just hire somebody on my own'."
"Well, that didn't work out. That was a dumpster fire. I realized that I didn't want to go through the entire hiring process. I would just have rather paid someone to find someone that I needed that aligned with me."
Once Jasmine decided to sign on, it was then that BELAY Virtual Assistant Kathy Ambrosic entered stage right.
"We've worked together for about a year at this point, and she's just been a godsend to be honest with you," Jasmine admits. "I would not be able to run my business without her."
The Solution
"BELAY took over the entire hiring and vetting process," Jasmine says. "I'm very particular, and I like things done a certain way. Because I have an online business, it can be very fast-paced with things changing.
"I needed someone who could work fluidly and also someone who had a spirit of excellence about them. And [BELAY] went and found the Scottie Pippen to my Michael Jordan."
And Jasmine and Kathy hit it off right away.
Kathy began to find things she could take off of Jasmine's plate, and even though Jasmine started with the fewest contracted hours, they gradually increased.
"It was really me getting used to delegating and realizing how much more I could delegate off of my plate so I could really focus in my zone of genius," Jasmine explains. "And then our business grew rapidly. Last year we tripled in business and we're on the same trajectory this year."
At the beginning of the engagement, Jasmine was admittedly frustrated and overwhelmed with balancing the roles of CEO and mom. Jasmine and Kathy would meet an hour each week and, through that, were able to learn a lot about each other.
"[Kathy] would take the initiative to learn things or even share things that she could do so that I could be prepared for my kids," Jasmine says.
The Result
Kathy's initial tasks included email management, calendar management, and document organization. After that, she became Jasmine's editor by reviewing and editing her publications and content.
"She handles my entire calendar at this point," Jasmine says. "I don't even touch my calendar. I just send everything and everybody to her. She's the gatekeeper, and she protects my time because I don't have a lot of it."
Alongside Jasmine's calendar, Kathy also manages client-facing inquiries, concerns, billing, payments, contracts, records, managing the team of nine contractors, and the database.
"She's learned [about] me, she's learned a lot about what I have to do, and she knows pretty much everything about the internal working of the business, [and] she knows how to run everything," Jasmine explains.
It's because of this that Jasmine is preparing to buy Kathy out of her BELAY contract to transition into Jasmine's first full-time employee as an executive assistant and operations manager combined.
They've also discussed returning to BELAY after she is onboarded to hire another Virtual Assistant for the team that Kathy will train.
"We've worked well together in all aspects," Jasmine says. "I've learned that the more I communicate with her and the clearer I am, the better she's able to implement and execute."
And the result? Jasmine has gained clarity and relief in this engagement with Kathy.
"I learned that I have a lot to delegate, but I also learned that I don't have to do it all," Jasmine reflects. "My confidence as a leader has grown, and [I know] I do have what it takes to lead a company."
Meet the Specialist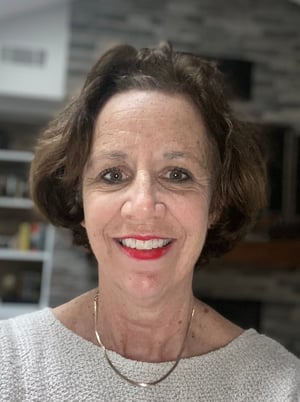 KATHY AMBROSIC
Virtual Assistant