Damon Taylor leads a team of 11 people who provide mental health services through a holistic approach to individuals with co-occurring disorders to address the underlying cause of substance use and self-destructive and high-risk behaviors.
Here For You Enterprise is a community mental health agency that provides outpatient substance abuse treatment. Their goal is to help clients develop a positive social support network, learn constructive social skills, and develop new attitudes and expectations for recovery.
The Challenge
"I was overbooking schedules," Damon admits. "I was double booking. I am a Ph.D. student, doing an internship, and also running my own business. Life was getting hectic.
"I had to be honest with myself [in order to realize] I felt unproductive during that time because it was too much to do."
When Damon expressed this concern during a conversation with one of his research assistants, they suggested he consider hiring a virtual assistant.
"He was explaining to me that he has a virtual assistant and how much easier it is [to] balance schedules, screen applicants, and coordinate meetings," Damon remembers.
Once he started to research more about virtual assistants, Damon was initially leery of the process.
It was his first experience with virtual work, and he was nervous that the private information that coincides with the nature of his work could be compromised once it was all online. He also wanted to make sure he could work well with his VA.
"When I met [BELAY Client Success Consultant] Allyson, I gave her a bit of history and background," Damon says. "She promised that whoever [BELAY] assigned to me would be a good fit for my personality."
And then BELAY VA Kemi Kodja came along.
The Solution
From the beginning of the engagement, both Allyson and Kemi identified areas where systems could be put in place in order to help Damon start to gain order.
"Being able to find somebody that could help bring order to the chaos is why I reached out to BELAY," Damon says.
"When I started working with Kemi, she demonstrated to me that there's a level of trust that I shouldn't be afraid of with her personality and with her persistence.
"The personal aspect and the personal touch that I get with [Kemi] means the world to me."
"Allyson explained to me that [this engagement] was going to not be just administrative work but a lot of creating systems, which really excited me," Kemi says. "I have a background in digital marketing, and he wanted help on Facebook — specifically creating content through Facebook ads."
During the day, Kemi assists Damon in a variety of ways from start to finish.
"I check his inbox, clear out emails, organize them, check his calendar to see what's going on that day or see if something is coming up that I need to create reminders for," Kemi recounts.
"If we have an ad running, I check out how it's going. I [also] create posts for our Facebook and Instagram pages. [It's because of this] I've been able to grow as a professional in my field."
The Result
"Kemi and I meet weekly to make sure we have a game plan," Damon says. "I like closure, and one of the things I really appreciate is that we close out the week and we prepare for the coming week.
"That's critical to me because on those weeks when everything feels hectic, I can at least hear my productivity for the week."
By working together, Kemi and Damon can strike a balance through systems and structured order.
"It makes life easier," Damon admits. "I actually have time to sit down and be a son to my mom. I have time to sit down and be a father to my son. I can actually be a friend. I can begin to have some balance to be a student, take care of my internship, and take care of my agency."
Kemi and Damon attribute open communication to their collective success as a team and in maintaining clarity in their respective roles.
"Talking things out and making sure there's no confusion about what I'm working on and what's happening has helped," Kemi says.
"I give her all of the tools to accomplish what she needs to accomplish so that way I can go to bed at night feeling as though I did my part," Damon adds.
Meet
the
Specialist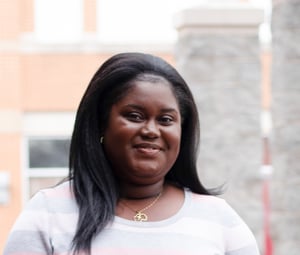 KEMI KODJA
Virtual Assistant