Chris Darley is the owner and operator of both the Chick-fil-A East Lake in Marietta, Georgia, and the Chick-fil-A Mercedes-Benz Stadium locations.
Chris got his first job at 16 years old at a Chick-fil-A restaurant and has been living and breathing God's chicken ever since.
"I love what I get to do," Chris says. "I view my role as a combination of business and ministry. I get to do both. It's a really cool opportunity to pour into leaders to help the next generations reach their purpose.
"I love that I get to do that on a daily basis – be involved in our community and get to be strategic."
The Challenge
"I needed someone to help me keep my priorities priorities," Chris says. "I was in a transition moment, and I had a friend who works at BELAY, and, ironically enough, we had a conversation that turned into, 'Well, maybe this is the right time — or the right fit — to try this.'
"And it really was out of a need that I had of making sure that my schedule [and] all the details that need to be done properly were actually getting done. I am a big-picture, strategic, long-term thinker. And so I needed someone to fulfill that role."
Enter BELAY Virtual Assistant LeeAnn Isley.
The Solution
Chris felt initial relief once LeeAnn came into the picture.
"I stopped having double-booked meetings," Chris explains. "At our kickoff meeting, we were able to sit down and talk about the main pain points we wanted to have solved in the next 30 days. And that was no double-booked meetings and to be able to have my calendar cleaned up, and that was accomplished in the beginning."
And since then, LeeAnn's task list has evolved.
She schedules meetings in their respective strategic and tactical time blocks and manages his email account by monitoring, responding, and forwarding them to his team members with action items.
"[LeeAnn is] so, so intuitive, and [I'm] very thankful for that," Chris says. "And this is really on the vetting side of BELAY. [They are] looking for individuals that are high caliber, and she is super high caliber.
That is what I hoped for in that role – that's really what I've achieved over years – and it was able to happen really quickly with her, which is great."
"We were able to develop a healthy foundation of trust. We grew trust really quickly, and I'm very thankful for that. We are six states away from each other, but she and her family were actually on vacation in Georgia [recently].
"So we were able to meet up, and my wife and I met her and her husband, and we ended up [spending] two and a half hours at a barbecue restaurant. And we introduced them to banana pudding, which I think was a major win."
The Result
"The biggest thing that we've been able to accomplish as a team is [I'm] now seeing better communication across the organization," Chris says.

"I am a visionary; I am big picture. I am a person who absolutely loves to cast vision. She has been able to make sure that training schedules are coordinated with orientation schedules, which are coordinated with my schedule.
"In the past, there were some gaps and you miss it and somebody gets scheduled, and I hate that. I hate inefficiencies. She has helped tremendously, not only with my schedule and my efficiency but the efficiency across the entire organization.
"[She's] engaged in our leadership team; [she's] engaged in the culture and of the restaurant that we ultimately want to have. She's been a huge part of that."
With LeeAnn by his side, Chris gained back his energy.
"There's something to be said of plowing through things that are hard," Chris says. "And as a matter of fact, I preach this every day [that] we need to focus on simple and hard.
Because if we pursue what's easy, it makes life more complicated. And what I realized is I had done the hard work of like, 'OK, I now know what the needs are, and since I know what the needs are, I do need to fulfill them.'
I don't need to keep doing the duty of doing this job just because, 'Oh gosh, I don't want to give this to someone else.'
What I was doing was robbing someone of what they love doing, and I was doing something that I didn't enjoy, and it was draining me. And so it has given me more time, more space, [and] more energy to lead at the level that I know I need to lead."
Meet the Specialist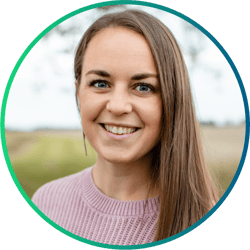 LEEANN ISLEY
Virtual Assistant