Caitlyn Brazill is the Chief Development Officer at Per Scholas, a national organization that has been advancing economic mobility for more than 25 years, unlocking potential for individuals, communities, and employers through rigorous training for careers in tech.
Partnering with dynamic employer partners from Fortune 500 companies to innovative startups, Per Scholas is building sustainable and diverse talent pipelines, together changing the face of tech.
With national remote training and campuses in 20 cities and growing, Per Scholas offers tuition-free training in the most in-demand tech skills, including Cloud, Cybersecurity, Data Engineering, IT Support, Software Engineering and more.
The Challenge
Caitlyn leads an accomplished and growing team of 30 development staff at Per Scholas that has tripled revenues during her tenure and raised more than $50M in support of economic equity for communities across the United States.
"Our organization has grown considerably over the five years that I've been at Per Scholas," Caitlyn notes. "We were a staff of 75 when I came on, and today we are at about 510. It's been a significant period of growth, both in terms of our team and also expansion to new markets. We launched in 14 U.S. cities over the last four years.
Caitlyn and her team are chiefly responsible for working with managing directors who lead each of their markets — and their national leadership team — to raise the resources they need in order to keep Per Scholas tuition free.
Per Scholas had an executive assistant who was on full-time staff and supporting Caitlyn and the Chief Impact Officer. When she left the organization, she recommended they reach out to BELAY and learn a bit more.
"She had worked for BELAY earlier in her career," Caitlyn explains. "She was able to facilitate a really smooth transition onboarding into BELAY because she understood how everything worked."
And then came along BELAY VA Jane McCowan.
The Solution
The support that Jane provides is mainly scheduling and travel for both Caitlyn and the CEO.
"Jane has been able to really deepen what it means to be supporting our scheduling and travel," Caitlyn says. "Jane will now look up the travel directions, figure out how long it's gonna take me to get from one place to another and make sure that time is sufficiently blocked on my calendar."
"We include in the buffer time that we need to be at the airport. And she'll check in with me proactively, 'Can you really do this call? You probably are going through security, right?' Which is really, really helpful.
"She's also [become] attuned to what's movable and what's not. We color code my calendar so that anything that is an external conversation with funders is clearly marked. And I can easily see, 'Okay, these are the big meetings I've got going on this week that I really need to prepare for.'"
Jane also helps Caitlyn on the back end by drafting the notes she will send after those conversations and ensuring all notes are logged in Salesforce so that they are able to keep track.
"[Jane] has helped us get to the next level of where we needed to be in terms of systematizing a lot of those external-facing relationships," Caitlyn says. "The connections of calendaring to really feeding the systems we use to manage our external facing relationships has been immensely helpful."
The Result
"Jane is very strong at asking questions for understanding, ensuring that she is completely clear on what we need and checking back," Caitlyn says. "So when we were first training her up on Salesforce, she would then ping me about the events that she had created and say, 'Hey, can you just take a look at this and make sure that I've gotten everything right.'
"She was just very proactive about ensuring that she learned our systems directly upfront."
Jane and Caitlyn were able to build trust with each other from the beginning.
"Jane's been really, really good about asking questions and seeking clarification," Caitlyn adds. "I've been really clear on feedback and she accepts it excitedly. She's completely undefensive. She demonstrated that kind of reliability that I could count on really early."
While wins can be measured in a number of ways, Caitlyn identifies one big win in this engagement with Jane as raising $43 million last year.
"We exceeded our revenue goals," Caitlyn says. "We raised more money last year than we ever have before, and positioned ourselves in a really solid place to reach our goals for 2023 as well.
Having Jane's support helps me do that in a way that is much more sane and calm, which has a positive impact on our whole team."
Meet the Specialist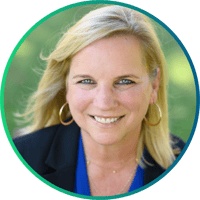 JANE McCOWAN
Virtual Assistant