Established in 2015, Lone Fir Creative is a digital marketing agency that gives structure to its clients' vision to produce marketing tactics that stimulate business.
They work primarily in creating brand strategy, messaging, technology and integrations in the technology, business consulting, and higher education spaces.
The Challenge
Lone Fir Creative merged with another agency in January causing revenue – and work – to double.
"We initially reached out [to BELAY] at the beginning of the year," Amanda says. "We [had] growth goals and I needed to be able to focus more time on building out a sales team and sales itself instead of [spending] time on the operational side.
"My goal is to grow new revenue, not necessarily to manage existing revenue or existing clients.
"We really needed somebody in a role that could help our marketing consultants take the load off of them and also somebody who is a problem-solver."
And along came BELAY Virtual Assistant Sally Robbins.
The Solution
Sally had previous experience in a lot of Lone Fir Creative's specializations.
"I can tell that [Sally] cares about her own personal reputation and isn't just there to get a paycheck," Amanda says. "She wants to do good work for our team. She wants to make sure that I'm satisfied with the work that she's doing. And I really value that — especially as a remote company."
Although Sally proved to be a good fit for Amanda and the team at Lone Fir Creative, Amanda admittedly was reluctant in the beginning.
"With bad experiences in the past, I was kind of hesitant to hand off everything to her because I needed to be working and getting things done," Amanda says. "I've struggled [with] employees catching on to using programs and platforms smoothly.
"[Sally] writes everything down. We record calls. I've been able to hand off more to her than I had expected. We've increased her hours because she's taken on a lot from our team."
The Result
"I trust [Sally] a lot and I see her take on gnarly problems and just dive in and figure that out," Amanda says. "I appreciate that because I don't have the time to do all those things. Oftentimes, they would have to sit until the evening or the next day.
"She's allowed me to have more time in the evening to not have to look at work because she is doing things I don't have to worry about — which is awesome."
And now, Sally is so much more than just an assistant to Amanda.
"She's really easy to work with," Amanda adds. "She's fun and she's lighthearted. She offers to do stuff for other people and she pitches in her ideas, too."
About three months into her engagement with BELAY, Amanda added hours to Sally's contract.
"Eventually, we want this role to be full-time, and [Sally] proved very trustworthy and I could hand things off to her," Amanda explains. "It pushed me to think of other things I could give her to do so that I could create more space and more bandwidth for myself – and then for other people on the team."
"If everything stayed as is, I would be beyond-the-moon happy," Amanda says. "I did not imagine it going this well. I'm looking forward to growing and scaling my team because [Sally] is handling something that I don't have to handle anymore."
Meet the Specialist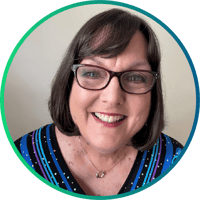 SALLY ROBBINS
Virtual Assistant